Alexandra Birch
Alexandra Birch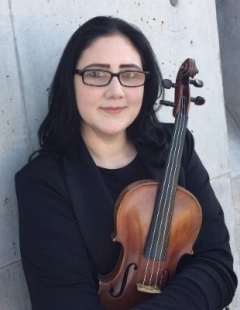 Specialization
Musicology
Bio
Dr. Alexandra Birch has a diverse career as a violinist, violist and scholar. As a soloist and chamber musician, she has toured extensively in the USA, Asia, Russia, and Europe in over 20 countries including performances in Alice Tully Hall, Carnegie Hall, the Kennedy Center, the Bolshoi Theatre, and the Mariinski Theater and is a prizewinner in numerous national and international competitions. Dr. Birch holds a BM, MM and DMA from Arizona State University where she was a student of Dr. Katherine McLin.
Dr. Birch's research focuses on music and the arts under duress particularly from the former USSR. As an Alexander Grass Memorial Fellow at the US Holocaust Memorial Museum, Dr. Birch released Soviet Memories (2019) and Musical Stolpersteine (2020) with pianists Dani Shraibman and Neilson Chen. Both albums feature recovered scores from her research in international archives alongside major classical sonatas. This is part of a larger research initiative examining the "deghettoization" of Holocaust music and its recognition in the broader classical canon. Dr. Birch's forthcoming monograph, Hitler's Goetterdaemmerung - Music and the Orchestration of War and Genocide in Europe, investigates the use of music by the Third Reich.
Her research interests include the rendering of trauma in cultural products, contested memory, double victimization, spatial and VR mapping of sites, soundscapes of trauma, and the politics of memory and musical representation. She is currently a PhD student in Musicology at UCSB with Dr. Martha Sprigge.
Learn more at alexandrabirch.com.
Publications
Soviet Memories (Firebird Records 2019)
Violinist - Alexandra Birch and Pianist - Dani Shraibman
Pieces by Emil Leyvand, Dmitri Shostakovich, Edi Tyrmand, and Suleman Yudakov
Musical Stolpersteine (Firebird Records 2020)
Violinist - Alexandra Birch and Pianist - Neilson Chen
Pieces by Franz Waxman, Viktor Ullmann, and Richard Strauss