Brandon DiNoto
Brandon DiNoto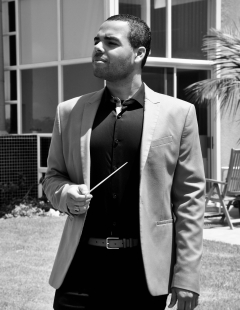 Specialization
Choral Conducting
Bio
Brandon C. Di Noto is an American conductor, vocalist, composer, and educator based in Southern California. He earned two baccalaureate degrees, one in Music with concentrations in Composition, Conducting and Vocal Performance; and the other in Business Communication with concentrations in Marketing and Organizational Management; from Point Loma Nazarene University. While at PLNU, Di Noto served as the Assistant Conductor for the university's Chamber Orchestra and Chorale, and was presented with the Outstanding Music Student award, the highest honor given in the department. He earned his Master of Music degree in Choral Music, with concentrations in Composition, Conducting, and Music Education, from the USC Thornton School of Music. While at USC, Di Noto sang with the USC Thornton Chamber Singers and served as the Associate Conductor & Teaching Assistant of the University Chorus.
Di Noto has quickly established himself as a versatile & in-demand conductor, frequently requested to work with a variety of ensembles in clinics and performances. Primarily a choral conductor, he has collaborated with and served as Artistic/Lead Director with several notable ensembles including: Oceanside First Presbyterian Church Chancel Choir, Pacific Harmonix, Point Loma Nazarene University Chorale, Solana Beach Presbyterian Church Chancel Choir, UC Santa Barbara Chamber Choir, USD Choral Scholars, and the USC Thornton Chamber Singers & University Chorus. No stranger to working with orchestras, Di Noto served as Associate Conductor of the PLNU Chamber Orchestra for two seasons, where he prepared and conducted standard repertoire and several new premieres. Also maintaining an interest in opera, he made his operatic debut in 2022 leading the offstage chorus in San Diego Opera's four-concert run of Mozart's Cosí fan tutte. Di Noto currently serves as the Primary Instructor & Conductor of the UC Santa Barbara Singing Gauchos; and continues to maintain an active performance calendar. His mentors include: Grant Gershon, Cristian Grases, Daniel Jackson, Nicole Lamartine, Larry Livingston, Keith Pedersen, Jo-Michael Scheibe, Tram Sparks, Bruce Stasyna, Nick Strimple, and Philip Tyler.
An equally accomplished and in-demand vocalist, Di Noto's performances span over a decade and include: choral, musical theatre, opera, operetta and solo artist appearances. He has sung with several internationally acclaimed ensembles including: Bach Collegium San Diego, PLNU Concert Choir, Sacra/Profana, USC Thornton Chamber Singers, and Voces8. Di Noto's soloist highlights include selections from Britten's Rejoice in the Lamb, Handel's Messiah, Mendelssohn's Die Erste Walpurgisnacht & Elijah, and Schubert's Mass in G. Musical theatre & operetta highlights include the roles: Gomez Addams (The Addams Family), Lazar Wolf (Fiddler on the Roof), Jud Fry (Oklahoma!), Cowardly Lion (The Wizard of Oz). No stranger to session singing, his voice can be heard on the recently released recording, Gregorian Meditations: Choral Works of Forgotten French Masters Desenclos and Langlais, with the USC Thornton Chamber Singers. Di Noto's mentors include: J. Craig Johnson, Amy Mein, Mary Mattei Scheibe, and Michael Sokol.
As a composer, Di Noto is captivated by traditional and innovative methods of conveying musical narratives to his audience. He is interested in blending traditional and extended harmonies, as well as modern composition techniques with the many cultural musical traditions at his disposal, in his works. Di Noto's composition mentors include: Neal Desby, Victor Labenske, Z. Randall Stroope, and Frank Ticheli.
Di Noto currently divides his time between San Diego and Santa Barbara, CA; as well as the myriad of locations his performance career takes him. He is currently pursuing a Doctor of Musical Arts degree in Choral Conducting at UC Santa Barbara; where he directs the Singing Gauchos choral ensemble and sings in the Chamber Choir. On the rare occasion when he is not involved in musical activities, Di Noto enjoys cooking, exercising, hiking, traveling, watersports, and spending time with his friends and loved ones.