Alumna Noelle Barr '21 receives top University Honors for Undergraduate Research
Alumna Noelle Barr '21 receives top University Honors for Undergraduate Research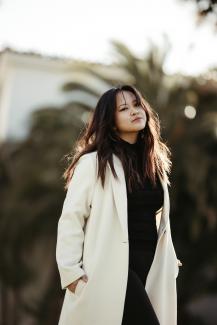 During her last year as an undergraduate student at UC Santa Barbara, alumna Noelle Barr '21 received the 2021 Chancellor's Award for Excellence in Undergraduate Research and was named the First Prize Winner of the 2021 Library Award for Undergraduate Research in the Humanities and Fine Arts category. Barr received recognition for her thesis, titled "Reinterpreting Gendered Spaces of Modernity in the Portraits of a Violinist," in which she applies a feminist lens to analyze four portraits of a female violinist by French Impressionist Berthe Morisot in the context of 19th-century music culture. As a graduating senior of the Class of 2021, Barr was also inducted into the Phi Beta Kappa Honors Society.
The Chancellor's Award recognizes four distinguished undergraduate researchers each year. One recipient comes from departments within each of four broad disciplinary divisions: science, social sciences, engineering, and humanities and fine arts. The award is intended to honor exceptional undergraduate contributions to knowledge creation in the field or discipline in which the research was conducted.
The annual UC Santa Barbara Library Award for Undergraduate Research (LAUR) recognizes students "who produce a scholarly or creative work that makes expert and sophisticated use of the collections, resources, and services of the UCSB Library."
Barr's thesis advisor was History of Art & Architecture Associate Professor Laurie Monahan and her research was supported by the Howard C. Fenton Undergraduate Research Fellowship.
In 2020, Barr was named the Second Prize Winner of the Library Award for Undergraduate Research in the Humanities and Fine Arts category for her paper "Musical Materiality," which takes a close look at the façade of the Palais Garnier – the Paris Opera House – from the lens of art and architectural history, public use of the space in and around the Palais, and attitudes of the time about music and its place in French culture.
Barr graduated in June 2021 from UC Santa Barbara with a double major in Music and the History of Art. She started playing the violin at the age of 9 in a public school program. After participating in the local community orchestra throughout elementary and middle school, she became a member of the Claremont Young Musicians Orchestra (CYMO), where she was exposed to an expansive list of symphonic repertoire, coachings led by musicians of the Los Angeles Philharmonic, and a rehearsal with Gustavo Dudamel in 2015. Since continuing her violin studies as a double major at UC Santa Barbara, she has participated in the Department of Music's chamber ensembles as a student of Lecturer Ertan Torgul. She also participated in masterclasses with members of the Danish String Quartet in 2019 and Sheryl Staples of the New York Philharmonic in 2020. Barr will pursue an M.A. at New York University's Institute of Fine Arts in the Fall of 2021.