Alumna Dr. Emily Vanchella '21 appointed Visiting Music Faculty in the Department of Fine and Performing Arts at Texas A&M International University
Alumna Dr. Emily Vanchella '21 appointed Visiting Music Faculty in the Department of Fine and Performing Arts at Texas A&M International University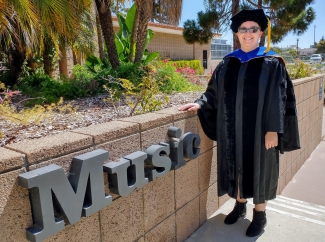 Alumna Dr. Emily Vanchella '21 was recently appointed as visiting music faculty in the Department of Fine and Performing Arts at Texas A&M International University in Laredo, Texas, where she teaches courses in American popular music.
Dr. Vanchella's primary research interest is the application of topic theory to classic British and American rock from the 1960s and early 1970s. Her dissertation, "Honey Pie, Colors of Dreams, and Inner Light: Stylistic Expertise and Musical Topicality in the Beatles' Mid and Late 1960s Songs," examines the Beatles' music from this perspective. She is also interested in narrative and music in animated media, having presented projects on Disney's Fantasia (1940) and Nickelodeon's Avatar: The Last Airbender (2005-2008).
Dr. Vanchella has presented conference papers at the Film and Multimedia Interest Group meeting at the Society for Music Theory 2019; West Coast Conference of Music Theory and Analysis 2019; and Music and the Moving Image 2019. She is a member of Phi Beta Kappa and the Society for Music Theory.
Dr. Vanchella earned both a Doctor of Philosophy (PhD) and Master of Arts (MA) in Music Theory from UC Santa Barbara, where she studied primarily with her advisor, Assistant Professor Janet Bourne, and Professor Scott Marcus, director of both the UCSB Music of India Ensemble and UCSB Middle East Ensemble. In addition to her research and teaching activities, Dr. Vanchella is an active performer on the sitar and passionate about Hindustani (North Indian) musical performance and theory. During her time at UC Santa Barbara, she served as primary assistant to the Music of India Ensemble.
Dr. Vanchella received a B.A. in Music, summa cum laude, from Agnes Scott College, with a concentration in music theory and minor in Spanish. Her primary instrument in college was the classical and jazz guitar, and she still enjoys playing guitar in her free time.