Alumna Dr. Kelly Guerra '21 and Doctoral Candidate Luvi Avendano featured in Opera Santa Barbara's Cruzar la Cara de la Luna
Alumna Dr. Kelly Guerra '21 and Doctoral Candidate Luvi Avendano featured in Opera Santa Barbara's Cruzar la Cara de la Luna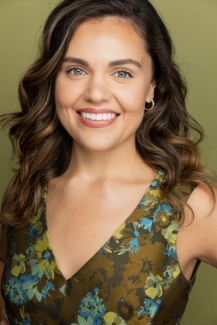 UC Santa Barbara alumna Dr. Kelly Guerra '21 and Doctoral Candidate Luvi Avendano will be featured in Opera Santa Barbara's production of José "Pepe" Martinez's 75-minute Mariachi operetta, Cruzar la Cara de la Luna ("To Cross the Face of the Moon"). Guerra, a former Opera Santa Barbara Chrisman Studio Artist, will sing the role of Lupita and Avendano will sing the role of Victor for both productions of the operetta, which will be performed at the Granada Theatre in downtown Santa Barbara on October 1, 2021 at 7:30 pm and October 3 at 2:30 pm.
Conducted by David Hanlon and directed by Octavio Cardenas, this Opera Santa Barbara premiere will feature performances by Grammy-Award winning, Los Angeles-based Mariachi Los Camperos, who performed the opera at its New York City premiere in 2017 and the Houston revival in 2018.
The set, which alternates between contemporary Houston, 1950's Mexico, and the Chihuahuan Desert, is designed by Adam Crinson, with lighting design by Brandon Baruch. The performance will have songs and spoken dialogue in Spanish and English, with English supertitles projected above the stage.
With lyrics by Martínez (founder of the Mariachi Vargas de Tecatlá) and acclaimed American stage director Leonard Foglia, the operetta tells the tale of three generations of an immigrant family as they journey across borders to find one another and to make a home together.
Leonard Foglia shared in his synopsis of the operetta that "To Cross the Face of the Moon / Cruzar la Cara de la Luna follows three generations of a single family, divided by countries and cultures. As a Mexican/American man deals with the approaching death of his father, he is forced to face these questions about his own place in the world – straddling two cultures – as well as that of his immigrant father and his American daughter. As long-buried secrets are revealed, he finds himself dramatically re-evaluating his own understanding of what makes a family. Like the Monarch butterflies that migrate every year to the birthplace of his father, the members of the Velasquez family must travel both physically and spiritually between Michoacán and Texas and look deep into their hearts before they learn where they truly belong."
Tickets are on sale now and available for purchase on Opera Santa Barbara's website.