Alumna Dr. Kelly Guerra '21 selected for Cleveland Institute of Music's inaugural Future of Music Faculty Fellowship
Alumna Dr. Kelly Guerra '21 selected for Cleveland Institute of Music's inaugural Future of Music Faculty Fellowship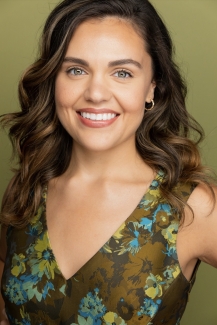 Alumna Dr. Kelly Guerra '21 was selected for the Cleveland Institute of Music's inaugural Future of Music Faculty Fellowship. Supported by a grant awarded by the Sphinx Venture Fund, this unique program is designed to prepare Black and Latinx professionals in the music field for a successful and fulfilling career in academia.
With more than 160 applicants from 30 states and seven countries, the inaugural cohort of 35 fellows includes scholars representing areas of study such as jazz, music education, vocal performance, ethnomusicology, music theory, and more, from institutions such as the University of Michigan, Eastman School of Music, Rice University, and Carnegie Mellon University.
Offered at no cost to participants, the program began on June 25, and features a series of virtual seminars and meetings on topics such as the academic job market, navigating the job search process, effective teaching, the politics of academia, and peak performance. Guest speakers include internationally acclaimed musician, composer, and educator Wynton Marsalis, President of the University of Richmond Dr. Ronald Crutcher, MacArthur grant-winner Dr. Angela Duckworth, and TED speaker Simon Sinek. The program will conclude in January 2022 with a special session to be held in-person during the SphinxConnect conference.
Throughout the program, fellows will work closely with Program faculty, including university presidents, music school deans, and teaching artists from institutions such as The Juilliard School, Indiana University Jacobs School of Music, and Harvard University. Each fellow will also be paired with a career mentor, who will offer personalized coaching and career advice for the duration of the program.
Additional information on the Future of Music Faculty Fellowship can be found on the Cleveland Institute of Music's website and on the fellowship's Program Highlights page.
Guerra graduated in March 2021 with a Doctor of Musical Arts degree in Voice from UC Santa Barbara, where she studied with Professor Isabel Bayrakdarian. As a first-generation American and native of Southern California, Kelly is passionate about producing projects that raise awareness and monetary aid for detained immigrants in the USA as well as premiering and championing contemporary vocal works. The subject of her DMA thesis at UC Santa Barbara was Gabriela Lena Frank's Conquest Requiem.