Alumna Dr. Kelly Guerra '21 to sing role of Justice Ruth Bader Ginsburg in Derrick Wang's Scalia vs Ginsburg with Chautauqua Opera Company
Alumna Dr. Kelly Guerra '21 to sing role of Justice Ruth Bader Ginsburg in Derrick Wang's Scalia vs Ginsburg with Chautauqua Opera Company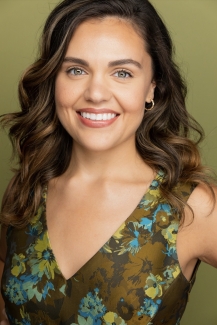 Media Contact
Adriane Cleary
Marketing and Communications Manager
UC Santa Barbara Alumna Dr. Kelly Guerra '21 will sing the role of Justice Ruth Bader Ginsburg in Derrick Wang's Scalia vs Ginsburg with the Chautauqua Opera Company this summer. Guerra was named one of five apprentice artists in the 2021 Young Artist Program, and will also participate in the development of an opera with fellow members of the Young Artist and Composer Fellows programs.
Directed by Cara Consilvio and conducted by Steven Osgood, Chautauqua Opera Company's production of Scalia vs Ginsburg will be performed on July 9, 16, 23, 30 and August 6, 2021 at the open-air Performance Pavilion on Pratt Avenue in Chautauqua, New York. The cast will feature mezzo-soprano Guerra as Justice Ruth Bader Ginsburg, tenor Chauncey Packer as Justice Antonin Scalia, and lyric bass Michael Colman as The Commentator. The creative team will include Efren Delgadillo Jr. (Stage Design), Michael Baumgarten (Lighting Design), B.G. FitzGerald (Costume Design), and Martha Ruskai (Wig and Makeup Design).
Hailed as "a dream come true" (Ruth Bader Ginsburg), a "perfect … jewel" (Opera Today), and "the kind of opera that should be everywhere" (OperaWire), Scalia vs Ginsburg is a one-act comedy about the close and unlikely friendship between U.S. Supreme Court justices Ruth Bader Ginsburg and Antonin Scalia. Created by composer-librettist Derrick Wang and inspired by the justices' own words, this "buoyant show with a serious core" (Süddeutsche Zeitung) was first introduced at the U.S. Supreme Court in 2013, ushering in the era of Supreme Court-themed art.
Premiered in 2015 at noted conductor Lorin Maazel's Castleton Festival and revised for a sold-out 2017 production at The Glimmerglass Festival, Scalia vs Ginsburg has since been produced across the United States and received its sold-out Australian premiere in 2021. OperaDelaware's 2019 production of Scalia vs Ginsburg, the best-selling show in the company's 75-year history, has been broadcast on national radio and featured on Live with Carnegie Hall.
Justices Ginsburg and Scalia themselves wrote forewords to Derrick Wang's libretto, an early version of which was published in the Columbia Journal of Law and the Arts and excerpted as a chapter in Justice Ginsburg's 2016 book My Own Words. The Los Angeles Times wrote: "Could we please make it a constitutional requirement that no one can be sworn into office in the White House or Congress without having first seen Scalia/Ginsburg?"
In addition to her role in Scalia vs Ginsburg, Guerra will collaborate with fellow Apprentice Artists soprano Chasiti Lashay, tenor Jared V. Esguerra, baritone Yazid Gray, and lyric bass Michael Colman in the creation of an opera co-written by 2021 Chautauqua Opera Company Composer-in-Residence Frances Pollock and composer fellows Jasmine Barnes and Sage Bond. The original production will be directed by Chauncey Packer and conducted by Steven Osgood.
Learn more about Chautauqua Opera Company's 2021 Program here.
Dr. Guerra graduated in March 2021 with a Doctor of Musical Arts degree in Voice from UC Santa Barbara, where she studied with Associate Professor Dr. Isabel Bayrakdarian. The subject of Guerra's doctoral thesis was Gabriela Lena Frank's Conquest Requiem. As a first-generation American and native of Southern California, Guerra is passionate about producing projects that raise awareness and monetary aid for detained immigrants in the USA as well as premiering and championing contemporary vocal works.