Alumna Leslie Cain '17 appointed as Classical Instrumental Artist-Teacher at New Orleans Center for the Creative Arts (NOCCA)
Alumna Leslie Cain '17 appointed as Classical Instrumental Artist-Teacher at New Orleans Center for the Creative Arts (NOCCA)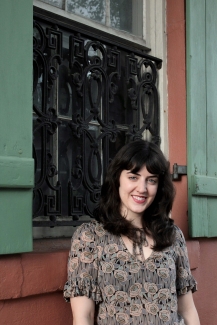 Media Contact
Adriane Cleary
Marketing and Communications Manager
UC Santa Barbara alumna Dr. Leslie Cain was recently appointed to a faculty position in the Classical Instrumental division of the New Orleans Center for Creative Arts (NOCCA), where she will serve as an Artist-Teacher of music theory, musicianship, chamber music, and accompanying.
NOCCA is Louisiana's only dedicated arts conservatory, offering pre-professional training to the state's most promising high school students. The conservatory offers its programs tuition-free to accepted students and provides a rigorous academic education in addition to its intensive arts curriculum.
Dr. Cain graduated from UC Santa Barbara in 2017, completing her Doctor of Musical Arts degree in Keyboard in the studio of Paul Berkowitz. She moved to New Orleans the following year, having been utterly bewitched by the city during her travels, and now lives in a historic 1860s Creole cottage near the banks of the Mississippi River.
During her time at UC Santa Barbara, Dr. Cain emphasized the study of French repertoire, culminating in her DMA document exploring the connection between the music of Maurice Ravel and the philosophy of Jean-Paul Sartre. She is an alumna of the Conservatoire américain de Fontainebleau, the storied institute of French music held each summer at Napoleon's château in Fontainebleau, France. Her other recognitions include performing in Richard Goode's master class on the Debussy preludes at Carnegie Hall, by invitation of the Weill Music Institute.