Assistant Teaching Professor of Music Composition Sarah Gibson announces new #What2020SoundsLike project with piano duo HOCKET
Assistant Teaching Professor of Music Composition Sarah Gibson announces new #What2020SoundsLike project with piano duo HOCKET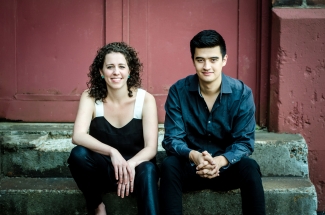 Media Contact
Adriane Cleary
Marketing and Communications Manager
UC Santa Barbara Assistant Teaching Professor of Music Composition Sarah Gibson recently announced a new project, #What2020SoundsLike, with her Los Angeles-based new music piano duo, HOCKET. Gibson and her duo partner, fellow pianist and composer Thomas Kotcheff, have commissioned 50 composers to write miniatures for piano duo as a response to the challenges of 2020.
"We've all been itching to create music and to figure out a way to share art," shared Gibson. "Once we made the decision to start rehearsing together again, HOCKET was interested in how 50 composers would respond in the moment with miniatures for our duo. For the prompt, we asked composers to respond musically to what has happened (and what is currently happening) so far in 2020 — they could respond in any way they felt they wanted to. We wanted this project to be a platform for our friends, colleagues and collaborators to come together and express themselves in a time when many of us are looking for a sense of community and artistic expression."
"The piece length parameters were to write miniatures that are either 15, 30, or 45 seconds in length. The purpose of this choice in length was so that the pieces could be composed, rehearsed, and recorded quickly and give as much of a sense of "real-time" musical reaction to the moment as possible. The composers could write for any combination of two pianos, piano 4-hands, toy piano (2), melodica (2), accordion, and/or small percussion."
The 50 commissioned composers include new music luminaries from across the country, including Vicki Ray, Ted Hearne, Hitomi Oba, Donald Crockett, Gemma Peacocke, Marcos Balter, and UC Santa Barbara Composition alumnus Nick Norton.
The #What2020SoundsLike pieces have been released weekly on HOCKET's social media (@HOCKETensemble) since mid-June, and will continue to be released through September 2020. The project will culminate in a live streamed performance of the pieces on August 22, 2020 and an album release at the end of the year.
Follow the project at HOCKET.org/What2020SoundsLike.
Read more about HOCKET here.