Assistant Teaching Professor of Music Composition Sarah Gibson awarded Faculty Research Grant to record debut album with piano duo HOCKET
Assistant Teaching Professor of Music Composition Sarah Gibson awarded Faculty Research Grant to record debut album with piano duo HOCKET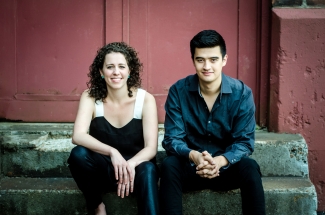 Media Contact
Adriane Cleary
Marketing and Communications Manager
UC Santa Barbara Assistant Teaching Professor of Music Composition Sarah Gibson was awarded a UC Santa Barbara Faculty Research Grant for the 2020-2021 academic year. Gibson, co-founder of the Los Angeles-based new music piano duo HOCKET, was awarded the funding to record HOCKET's debut album, And the River, with her duo partner, pianist and composer Thomas Kotcheff.
And the River, which showcases the most innovative and exciting works commissioned by and written for HOCKET over the past five years, will include works by Nina Young, Christopher Cerrone, Aaron Holloway-Nahum, Donald Crockett, and Gibson. Specifically, the funds will support the recording, equipment, and contracting fees for Donald Crockett's concerto, And the River, which was written for HOCKET in 2018.
"During the last five years, HOCKET has committed itself to the creation, performance, and sharing of new music for piano duo," said Gibson. "Every piece on this album is a showcase of our artistic efforts. In particular, Crockett's concerto is written for a unique instrumentation—piano 4-hands/two toy pianos, and chamber orchestra—and was intimately workshopped with HOCKET throughout its conception. To have it be the centerpiece of our album just felt right. We are excited to record this and the other works, and to highlight how broad the definition of a piano duo can be."
HOCKET has been lauded as "brilliant" by the LA Times' Mark Swed and has performed at such festivals as the L.A. Philharmonic's Noon to Midnight, MATA Festival, Other Minds Festival, and with the Eighth Blackbird Creative Lab. The duo has held residences at Avaloch Farm Music Institute and received grants from the Earle Brown Music Foundation and the Presser Foundation.
Previously the Los Angeles Chamber Orchestra's Sound Investment Composer, Gibson has received commissions and performances from the Los Angeles Chamber Orchestra, American Composers Orchestra, Tanglewood Music Center, Left Coast Chamber Ensemble, the Aspen Contemporary Ensemble, and Chamber Music America, among others. She currently serves as Assistant Teaching Professor of Music Composition in both the UC Santa Barbara Department of Music and the College of Creative Studies.
Learn more about HOCKET here.