Associate Professor Benjamin Levy publishes article with Alumna Laura Emmery '14 in Music Theory Online journal
Associate Professor Benjamin Levy publishes article with Alumna Laura Emmery '14 in Music Theory Online journal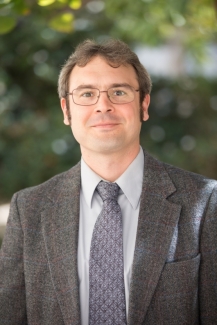 Dr. Benjamin Levy, Associate Professor of Music Theory at UC Santa Barbara, recently co-curated a collection of essays with UC Santa Barbara alumna Dr. Laura Emmery '14. Their introductory essay to the Special Symposium, "Archival Research in Music: New Materials, Methods, and Arguments," appears in the most recent issue of Music Theory Online, the official online journal of the Society for Music Theory, which was founded by Dr. Lee Rothfarb, Professor of Music Theory at UC Santa Barbara.
"The collection of essays is something that Laura and I had been working on for a while," shared Dr. Levy. "We wanted to highlight a lot of the recent archival research that is going on in music right now, because there are a lot of scholars taking really clever and creative new approaches. There are articles that are looking at musical recordings, computer code, the documents created by copyists and arrangers, and all kinds of archival documentation—so really going beyond what most people imagine when they think of sketch studies and scholars pouring over dusty manuscripts in order to make a definitive critical edition."
For this most recent issue of Music Theory Online, Dr. Levy authored another article focusing on the works of pianist and composer Bruce Goff, titled "Material Connections: Bruce Goff, Music, and Modernism Across the Arts."
"My article is actually about an architect, Bruce Goff (1904-82), who played the piano and composed as a younger man and kept up correspondence with composers like Harry Partch and Edgard Varèse throughout his life," noted Levy. "Goff was also writing music for player piano in the 1930s, a decade before Conlon Nancarrow, even though Nancarrow is often thought of as a pioneer in this regard. Goff cut his own piano rolls by hand and even used them to decorate one of his houses.
"Since the collection is being published in Music Theory Online, I actually was able to include a video example of one of his piano rolls being fed through the instrument, which is a lot of fun to watch and hear. I had known about Goff's architecture for years, because he built several houses in Norman, Oklahoma, where I grew up. So after hearing an off-hand comment about his musical activities, and when I had a conference in Chicago, I made a side trip to the Art Institute there, which has his archival materials to see what was there. After seeing how rich the materials were, I started doing this research in a more serious way, and it's great to see it come out now, with this Special Symposium."
Dr. Emmery, who earned her PhD in Music Theory from UC Santa Barbara in 2014 and currently serves as Assistant Professor of Music Theory at Emory University, also authored an additional article for this issue of Music Theory Online. Titled "Gender Identity and Gestural Representations in Jonathan Harvey's String Quartet No. 2," Dr. Emmery's article builds on the scholarship of gender theory and musical gesture and embodiment to examine the meaning of gender in Harvey's work.
"It was such an enriching experience working on this special MTO symposium with friends and colleagues who share the same passion of archival research in its many forms," said Dr. Emmery. "The special issue shows not only how much the field of sketch studies has changed in recent years, but the field of music theory, in general, in that the collection of essays features such diverse methodologies and disciplines. In my essay alone, I draw on gender studies, feminist theory, music and spirituality, intercontextuality, and musical gestures to comprehend Harvey's markings on the score. I am always fascinated by what we can learn from the notes and sketches left behind and 'buried' in the archives."
In addition to scholarship by Dr. Levy and Dr. Emmery, the Music Theory Online essay collection also features former UC Santa Barbara faculty member Patricia Hall, whose article, "Giving Voice to a Foxtrot from Auschwitz-Birkenau," features music that was arranged and performed in the Auschwitz concentration camp during World War II. Dr. Hall taught at UC Santa Barbara for 25 years before joining the faculty at the University of Michigan as Chair of the Department of Music Theory (2011-2017), where she continues to serve as Professor of Music Theory.
View the table of contents and links to all of the articles for the most recent issue of Music Theory Online 27.3 (2021) on the Society for Music Theory website.