Associate Professor Dr. Isabel Bayrakdarian releases Armenian Songs for Children on Avie Records
Associate Professor Dr. Isabel Bayrakdarian releases Armenian Songs for Children on Avie Records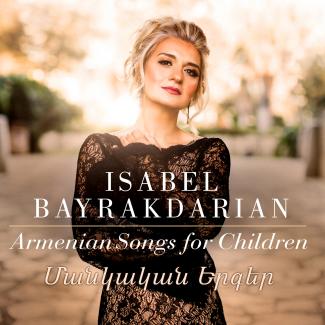 UC Santa Barbara Associate Professor Dr. Isabel Bayrakdarian's latest album, Armenian Songs for Children, was released on Avie Records on June 18, 2021. The 29-track album includes works by Armenian composers Gomidas Vartabed, Parsegh Ganatchian, Mihran Toumajan, and traditional songs from various sources, with arrangements by Artur Avanesov, John Hodian, Ellie Choate, and Isabel Bayrakdarian. Dr. Bayrakdarian collaborated with harpist Ellie Choate, flutist Ray Furuta, and Ruben Harutyunyan on the duduk, an ancient Armenian double reed woodwind instrument made of apricot wood.
Avie's official press release for the album notes that, for Dr. Bayrakdarian, a Lebanese-born, Canadian-Armenian-American soprano, this is "a deeply personal project that gathers a selection of haunting and poignant lullabies drawing on the memories and experiences of the Armenian people and pays homage to her personal heritage. 29 tracks trace an arc from the Ottoman Empire through the Genocide and beyond, with songs and transcriptions by the country's beloved folk composer Gomidas Vartabed and two of his students, Parsegh Ganatchian who joined the diaspora in Lebanon, and Ganatchian's contemporary Mihran Toumajan.
"Isabel recounts with gratitude the process of researching and curating this collection of songs, many of them neglected or overlooked and some which she sang as a young child in elementary school. For Isabel, these evocative songs span two centuries and five generations. Sung by her great-grandmother, grandmother and mother, and now to her own children, Isabel's Armenian Songs have an appeal to children of all ages."
"The seeds of this album were planted when I was very young, and would listen to my mother sing songs to me from a homeland that no longer existed...from a place that seemed so far away," expressed Dr. Bayrakdarian. "The prayers, lullabies, and children's songs she sang to me, were sung in Adana (a town in historical Armenia) and passed down generation after generation, eventually to my great-grandmother Isabel Saraydarian, after whom I was named, to my grandmother Marie, both survivors of the Armenian genocide and mass deportations. My mother sang them to me and my siblings, and today I continue the tradition and sing them to my children. These songs have shown me that music truly has the power to bridge the past and the future and the ability to give voice to those voices that were silenced prematurely because of race, ethnicity, and religion. There's no better celebration of life, and survival, than through singing!"
BBC Radio 3 featured the album on a recent episode, with host Andrew McGregor remarking: "Now here's a totally unexpected set of delights – Armenian children's songs, and everything about this is new to me – composers, pieces, the singer Isabel Bayrakdarian – except for the sound of the Armenian duduk, one of my favorite wind instruments, the perfect foil for the voice in these beautifully melancholy lullabies."
"'I Sing to You,' a simple Armenian lullaby sung by soprano Isabel Bayrakdarian exploring her Armenian roots, accompanied by duduk player Ruben Harutyunyan and harpist Ellie Choate," noted McGregor after playing 'I Sing to You,' a lullaby from Dikranagerd. "Simple arrangements of Armenian children's songs, just duduk, flute and harp, and although Bayrakdarian's ornamentation doesn't always sound quite as idiomatic as a folk singer might she does a good job of matching her classically trained voice to these simple folk songs. Charming and disarming. You'll find it on the AVIE label."
Armenian Songs for Children is now available to purchase, stream, and download at avie-records.com.
Dr. Bayrakdarian serves as Associate Professor of Voice at UC Santa Barbara, where she teaches voice and opera and directs the Opera Outreach Program. As a performer, she has appeared with the premier opera companies and orchestras in New York, Boston, Los Angeles, Paris, London, Vienna, Montreal, and more, under the baton of such eminent conductors as Seiji Ozawa, James Conlon, Michael Tilson Thomas, Alan Gilbert, and Nicholas McGegan.
Dr. Bayrakdarian is the winner of multiple awards and competitions, including the Metropolitan Opera National Council Auditions (1997), Plácido Domingo's prestigious Operalia competition (First Prize, 2000), and four consecutive Juno Awards. Her versatility is also reflected in being the featured vocalist on the Grammy Award-winning soundtrack of the blockbuster film The Lord of The Rings: The Two Towers, on the soundtrack of Atom Egoyan's film Ararat, as well as a recent collaboration with the Canadian rock band Glass Tiger on their first-ever Christmas Album Songs for a Winter's Night.