Composition Alumnus Nick Norton '18 releases new album to benefit Equal Sound Coronavirus Relief Fund
Composition Alumnus Nick Norton '18 releases new album to benefit Equal Sound Coronavirus Relief Fund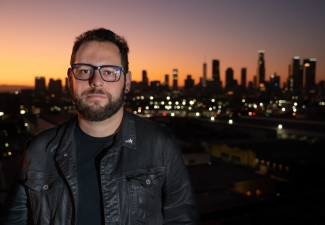 Media Contact
Adriane Cleary
Marketing and Communications Manager
UC Santa Barbara Composition Alumnus Nick Norton '18 recently released a new album, Lake Village Inn West, to benefit the Equal Sound Coronavirus Relief Fund. Described by Norton as "a collection of B-sides and rarities, gems mined under medical house arrest, and a stunningly subpar MIDI realization of a deeply beloved John Cage piece," the album is now available on all platforms.
All proceeds from sales on Bandcamp will be donated directly to the Los Angeles-based non-profit Equal Sound, for which Norton serves as Artistic Director. The donations go directly to help support operational expenses incurred while Equal Sound staff help to administer the Corona Relief Fund to musicians in need. The Equal Sound Corona Relief Fund is one of a handful of performing arts relief efforts that have received national attention from publications such as Billboard and The New Yorker, as well as from opera star Renée Fleming.
A Los Angeles-based artist, Norton received his PhD in Composition in 2018 from UC Santa Barbara, where he studied with Clarence Barlow, Curtis Roads, Joel Feigin, and Andrew Tholl. He also studied composition and political philosophy in college at UC San Diego and L'ecole Normale de Musique de Paris, as well as in graduate school at King's College, London.
Listen to Norton's new record, Lake Village Inn West, on Bandcamp, Spotify, Apple Music, or any other major streaming service. The album also includes a performance of Three Piano Pieces for Shira by UC Santa Barbara alumnus Marc Evanstein '19 (PhD Composition).
If you are interested in learning more about supporting Equal Sound, please visit equalsound.org/corona.
Learn more about Norton at nicknorton.space.