Composition Alumnus Tristan Perez '18 presents a Socially Distanced Wind Ensemble
Composition Alumnus Tristan Perez '18 presents a Socially Distanced Wind Ensemble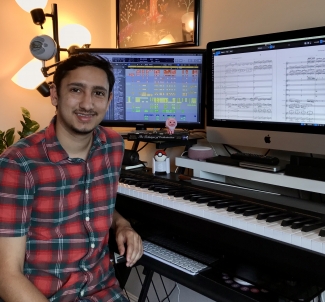 Media Contact
Adriane Cleary
Marketing and Communications Manager
UC Santa Barbara Composition alumnus Tristan Perez '18 recently composed an original work, titled And Spring Still Comes, for a virtual "socially distanced" wind ensemble inspired by the COVID-19 pandemic. With wind ensembles traditionally consisting of up to sixty performers, Perez had to reach out to musicians from across the country in order to produce a recording of his work. He asked each performer to submit individual recordings of his piece that he later combined into a single video performance.
Among the performers featured in the video are several UC Santa Barbara alumni, including bassoonist Claire Garvais, clarinetist Gaby Valladares, oboist Lexie Calloway-Cole, and trombonist Dylan Aguilara. The performance also included current UC Santa Barbara students clarinetist Sarah Evenson and pianist Reno Behnken, as well as faculty member Andy Radford on bassoon.
Watch the video here.
We asked Perez a few questions about the inspiration behind the piece, the technical process of putting the video together, and his plans for future "socially distanced" works.
Q: You wrote And Spring Still Comes during the COVID-19 pandemic. What motivated you to take on this project and what inspired the title of your piece?
A: Initially composing anything during the pandemic was very difficult. It was hard to feel motivated to write music knowing that it could be a very long time until anything is read or performed. One day I was on a "meme" page on Facebook and found a thread of musicians who were trying to get together to play something. When I saw how many musicians were looking for ways to play together I decided to write for wind ensemble because wind parts can be doubled easily and allow for many people to participate without having to turn anyone away. I made a post on the Facebook group and people responded! The morning I started writing the piece I woke up to some beautiful birdcalls. In that moment I realized that even though humans are on pause the world still turns and the seasons continue to change. Spring is all around us - even if we can't play an active part in it this year.
Q: What do you hope listeners will get out of experiencing this virtual performance?
A: First and foremost, I hope that people realize that there are still many ways to connect and make art together. I made several new friends from this experience, and that was so inspiring for me! As for the music itself, I really wanted this piece to be familiar and comforting. There is so much going on in the world, and I think that sometimes we need to be reminded that we're all going through it together. I think there is plenty of art coming out to represent our feelings of isolation and anxiety so I wanted to write a piece that focused on unity and hope.
Q: Can you describe your rehearsal and recording process for this piece?
A: There was a lot of prep work involved, haha! I started by asking two of the musicians to provide tuning notes that the rest of the ensemble could use before recording. I made several videos of myself conducting the piece along to a midi recording and a click track. Each video had a different variation of the accompaniment; some included subdivisions, some had no click, some had no midi, etc. This allowed the musicians to use the method that was best for them individually. Each musician would send me their best take and then I would go into logic and start cutting everything together. It was really fun adding each part one at a time and hearing the piece slowly come to life!
Q: Was this the first piece you wrote during the COVID-19 pandemic? Do you have any plans for future "socially distanced" works?
A: I was working on a chamber piece for saxophone and percussion when the pandemic began, but decided to put it on pause so I could do this instead. This experience opened my eyes to a whole new world of possibilities. I'm excited to keep working on these types of projects and possibly start a more permanent ensemble that does this type of work. I am currently working on a piece for four flutes (including beatbox flute) for a fellow UCSB alumni, flutist Catherine Marshal, '18. Catherine will be recording all four parts and putting them together! I have plans to collaborate with plenty of other friends and strangers in the near future as well with the goal of using the music to raise funds for worthy causes.
Q: What advice can you give student composers or performers looking to collaborate remotely with other artists on chamber works?
A: Start by reaching out to some friends (or strangers) and see who wants to work with you. I've found that it's easier to get excited about a project and feel motivated if you're doing it with other people. Find something that you all care about and use it to generate your art. Don't be scared if you've never worked in this medium before because you'll learn as you go. What's important is taking the first step and putting yourself out there. You can always do more than you think you can.
About Tristan Perez
Tristan studied composition with Leslie Hogan and Jeremy Haladyna and earned his BA in music composition from UCSB. While studying, he helped found and operate a community orchestra designed to allow students and community members gain hands on experience conducting, arranging for orchestra, running rehearsals, and putting on concerts for the community. Since the group began, it has grown to have over 55 members and continues to grow each year, consistently drawing in an audience of over 200. He is now pursuing his masters in music composition from the Bob Cole Conservatory at CSULB.
Tristan believes that the most enjoyable aspect of music is the community that it creates, and strives to encompass this value in his compositions. His music has been referred to as challenging, fun and exciting. He has composed and arranged for various ensembles in the United States and abroad including the University of Nevada, Reno Contemporary Music Ensemble, Orchestre À Vents Péro-Phonique, Santa Barbara Youth Symphony, Menifee Valley Middle School, Cate School, the Ojai Pops Orchestra, and the Pops Orchestra at UCSB.