Composition Faculty and Doctoral Candidates featured at International Computer Music Conference
Composition Faculty and Doctoral Candidates featured at International Computer Music Conference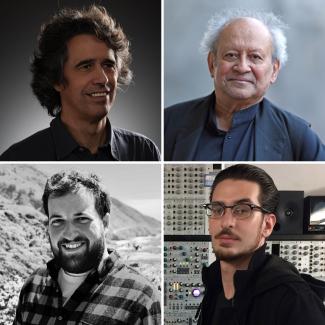 Members of the UC Santa Barbara Composition Program are being featured at the International Computer Music Conference (ICMC) in Santiago, Chile from July 25-31, 2021. Hosted by the Pontificia Universidad Católica de Chile, the conference is taking place in a completely virtual format, and opened with a keynote address by UC Santa Barbara Corwin Chair of Composition, Professor João Pedro Oliveira, titled Visual Music: Connecting Image and Sound. Some Considerations. In the opening concert, Oliveira's pieces Kontrol (percussion and electronics) and Tesseract (visual music) were part of the program.
Along with Oliveira, Professor Emeritus Clarence Barlow and doctoral candidates Raphael Radna and Stewart Engart are having their works featured in the conference. The virtual Listening Rooms include works by UC Santa Barbara composers, including Barlow's Coronialus, Engart's Sublimation, and Radna's strung.
Radna and Oliveira will also present a paper, titled "Space Control: A New Software Application for Intuitive Sound Spatialization," which introduces Space Control, a forthcoming software application by Radna and Oliveira enabling the realization and mixture of spatial gestures for electronic music composition. The software aims to provide an intuitive graphical interface for defining and combining spatial sound movements of arbitrary number and complexity within a user-defined loudspeaker arrangement, emphasizing precision, versatility, and ease of use. Space Control will be released later this year.
The ICMC is the preeminent annual gathering for computer music practitioners from around the world. Its unique interweaving of professional paper presentations and concerts of new computer music, refereed by ICMA-approved international panels, creates a vital synthesis of science, technology, and the art of music.
All events are available virtually to viewers who register for the International Computer Music Conference (ICMC).
View program notes for each of the pieces below.
Program Notes
Kontrol (2019) | João Pedro Oliveira
Kontrol is a virtual percussion piece. Movements correspond to sounds and sounds correspond to invisible instruments.
Tesseract (2017) | João Pedro Oliveira
A tesseract, also defined as a hypercube, is the four-dimensional equivalent of the cube. This video presents a possible journey throughout the six faces of a cube, and how they can be transformed and projected into a tesseract using different processes: translation, rotation, fragmentation, explosion and implosion, etc..
Coronialus (2020) | Clarence Barlow
Coronialus commemorates the Beethoven year 2020 ridden with the new coronavirus. It was generated by electronically manipulating a recording of the first two chords of Beethoven's Coriolanus Overture by the coronavirus genome code. Three versions exist, lasting 4'43", 5'34" and 7'18". The title - a 'Coriolanus' anagram - contains the words 'corona' and 'RNA'.
Sublimation (2020) | Stewart Engart
Sublimation is an endothermic process that occurs at temperatures and pressures below a substance's triple point in its phase diagram, which corresponds to the lowest pressure at which the substance can exist as a liquid.
strung (2020) | Raphael Radna
strung constructs an imagined musical performance through the transformation of instrumental timbres, with special attention given to sounds from inside of the piano. By juxtaposing these against sounds derived from other instruments, e.g., flute and oboe, sonic morphologies emerge that are both familiar and unexpected, engendering the sense of an uncanny music.