Corwin Chair of Composition João Pedro Oliveira awarded Grand Prize in the 2020 International Society of Bassists David Walter Composition Competition
Corwin Chair of Composition João Pedro Oliveira awarded Grand Prize in the 2020 International Society of Bassists David Walter Composition Competition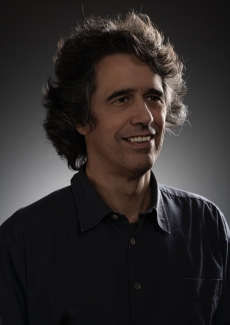 Media Contact
Adriane Cleary
Marketing and Communications Manager
UC Santa Barbara Corwin Chair of Composition João Pedro Oliveira was awarded Grand Prize in the Double Bass and Electronic Media category for the 2020 International Society of Bassists David Walter Composition Competition for his piece, Bass on Fire. The work, written in 2020, is for double bass, electronics, and video projection, which is captured directly on the body of the double bass (see the image below).
The adjudicators included Jeremy Baguyos (ISB/David Walter ISB Composition Competition Chair), Kathryn Schulmeister (member of the Elision Ensemble and guest performer with Klangforum Wien and Ensemble Dal Niente), and Stephen Tramontozzi (Assistant Principal Bass of the San Francisco Symphony, faculty member at the San Francisco Conservatory, and Principal Bass of the Sun Valley Music Festival). This year's competition saw a record 118 entries in four divisions: unaccompanied solo bass; chamber ensemble for one double bass with up to four additional instruments; bass ensemble for two to eight double basses; and double bass and electronic media.
As a winner of the biennial competition, Oliveira will have his work, Bass on Fire, performed at the 2021 International Society of Bassists Convention, to be held June 7-12, 2021 at the University of Nebraska-Lincoln.
Oliveira has received over 50 international prizes and awards for his works, including, among others, the Giga-Hertz Award and the Magisterium Prize from the Institut International de Musique Électroacoustique-Bourges (IMEB). Most recently, he was awarded First Prize in the 13th International Foundation Destellos Competition of Electroacoustic Composition and First Prize in the Citta di Udine Competition in the Electroacoustic Music category for his piece, La Mer Émeraude. Oliveira was also named a finalist in the Audiovisual category of the Citta di Udine Competition with his piece, Things I Have Seen in My Dreams.
In January of 2020, Oliveira joined the faculty at UC Santa Barbara as Professor and the Corwin Chair of Composition. He serves as the Head of the Composition Program and teaches courses in composition, electroacoustic music, visual music, and contemporary techniques.
A demo of the video projection for Oliveira's work, Bass on Fire.