Corwin Chair of Composition João Pedro Oliveira receives grant to compose Electroacoustic/Visual Music Opera
Corwin Chair of Composition João Pedro Oliveira receives grant to compose Electroacoustic/Visual Music Opera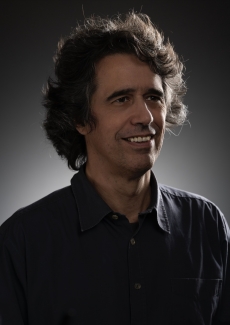 Media Contact
Adriane Cleary
Marketing and Communications Manager
UC Santa Barbara Corwin Chair of Composition João Pedro Oliveira received a €40,000 grant from the Portuguese Ministry of Culture to compose and produce an electroacoustic/visual-music opera based on the Book of Daniel in the Bible.
The Book of Daniel tells the story of Daniel and his three friends, all of whom were members of the royal family of David in Jerusalem and were among the first wave of Israelites to be taken into exile in Babylon. The narrative follows their struggles to maintain hope in the land of their conquerors, and to remain faithful to the Torah and loyal to their Jewish identity. The four men remain faithful to God through many trials and are delivered from seemingly impossible situations after refusing to worship the empire and the king of Babylon.
Throughout the book, Daniel receives four apocalyptic visions that serve as prophecies from the Lord. All four visions foretell the rise and fall of kings and kingdoms, and times of suffering for the people of Israel. The final vision details conflict between the King of the North and the King of the South, with the final battle resulting in the destruction of the Temple in Jerusalem and the abolishment of the daily sacrifice made by the Jewish people to God. These atrocities lead to the "end-time," in which Israel's leaders of old are brought back to life to lead their people in the new kingdom of God, who reigns sovereign over history and all earthly kings.
The production of Oliveira's opera will be a pre-recorded version adapted to Covid times, with no live singers or instruments. All action will be projected visually on the screen and multichannel audio.
In addition to this pre-recorded version of the opera, Oliveira will be collaborating with the UC Santa Barbara Voice Area to present a live-staged performance of the opera.
The premiere of the recorded version is projected for the end of 2022, while the premiere of the staged version at UC Santa Barbara is projected for 2023.
In January of 2020, Oliveira joined the faculty at UC Santa Barbara as Professor and the Corwin Chair of Composition. He serves as the Head of the Composition Program and teaches courses in composition, electroacoustic music, visual music, and contemporary techniques.