Department of Music announces Undergraduate Student William Geiler and Graduate Student Raphael Radna as 2020 Dorothy and Sherrill C. Corwin Award Recipients
Department of Music announces Undergraduate Student William Geiler and Graduate Student Raphael Radna as 2020 Dorothy and Sherrill C. Corwin Award Recipients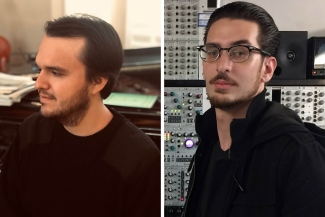 Media Contact
Adriane Cleary
Marketing and Communications Manager
The UC Santa Barbara Department of Music announces undergraduate student William Geiler and graduate student Raphael Radna as the 2020 Dorothy and Sherrill C. Corwin Award recipients. The annual awards recognize excellence in music composition at UC Santa Barbara, and are open to all UC Santa Barbara undergraduate and graduate student music majors in the Department of Music, the College of Creative Studies, and the Media Arts and Technology Program.
The awardees were selected by a committee of external adjudicators nominated by the Corwin Chair, Professor João Pedro Oliveira. This year's panel included Liviu Marinescu (California State University, Northridge), Panayiotis Kokoras (University of North Texas, Denton), and Paul Rudy (University of Missouri-Kansas City).
For the 2019-2020 award cycle, Geiler received the undergraduate award for his piece April Fog for clarinet in B-flat and piano, in the Solo or Chamber Ensemble category. Geiler describes the piece as "a tone poem inspired by the springtime fog of Santa Barbara, CA."
Radna received the graduate award for his piece Convergences in the Solo or Chamber Ensemble category, as well as for his piece Trapdoors for the Electronic/Audiovisual category. Radna notes that "Convergences is a study of texture, density, and blending between acoustic and electroacoustic sound. The ensemble plays from an indeterminate score that specifies ranges of musical parameters, highlighting areas of similarity among extended techniques available in the given instrumentation. The electronics analyze features of the instrumental performance and generate sound based on it, amplifying the sense of sonic ambiguity while transcending timbral, gestural, and spatial constraints. The result is a simultaneous development of the same material in both domains, with the electronics serving to modulate the textural density and timbral diversity of the hybrid performance throughout."
For his second piece, Trapdoors, Radna notes that the work "weaves an abstract sonic narrative from transformations of a limited set of sound objects and variations on simple gestures articulated by echo, reverberation, and spatialization. The material of the piece includes processed instrumental sounds, field-recordings, computer-generated sound, and recordings of an EML-200 modular synthesizer. Trapdoors was recently remastered and reimagined in an octophonic version, which had its premiere at UCSB in Fall 2019."
About the Artists
William Geiler
William Geiler (b. 1998) is a composer, multi-instrumentalist and teacher based in Southern California who currently studies Music Composition at the University of California, Santa Barbara. Throughout his musical career he has been active within the realms of classical music, jazz, alternative rock and gamelan, and often fuses these various musical passions in his compositions. As a composer he has received distinctions from Pikes Peak Young Composers, M.T.A.C.'s Composers Today, AN ART ARTISTRY, NY Art Ensemble and the National Federation of Music Clubs.
Raphael Radna
Raphael Radna is a composer specializing in interactive electroacoustic music and computer-assisted composition. His music has been performed across the United States and in Japan, including at the International Computer Music Conference, the New York City Electroacoustic Music Festival, the California Electronic Music Exchange Concerts, and the Osaka University of Arts Electroacoustic Music Festival.
Radna also has extensive performance experience on guitar, bass guitar, keyboard, and electronics, and has appeared at venues such as The Hollywood Bowl, REDCAT, The Center for New Music, and the Time-Based Art festival. He has completed several tours of North America, the UK, Europe, and Japan with the independent bands Kristin Kontrol, Light Asylum, Ice Choir, and The Depreciation Guild.
Radna holds an MFA in Electronic Music and Recording Media from Mills College, and is currently pursuing a PhD in Music Composition at UC Santa Barbara.