Department of Music remembers UCSB Son Jarocho Ensemble Director Hugo Macario
Department of Music remembers UCSB Son Jarocho Ensemble Director Hugo Macario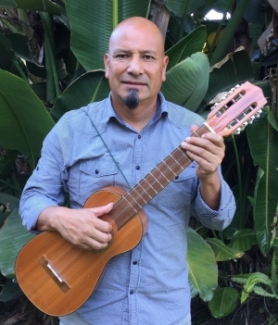 Media Contact
Adriane Cleary
Marketing and Communications Manager
The UC Santa Barbara Department of Music regretfully shares the news that Hugo Macario, a UC Santa Barbara Lecturer and Director of the UCSB Son Jarocho Ensemble, passed away on May 9, 2021 at the age of 55. Hugo was known as both a talented performer and educator, with a love for Latin music and sharing it with the community.
Hugo was born on August 15, 1965 in Pátzcuaro, a large town in the Mexican state of Michoacán. He started playing traditional music from Latin America at an early age. He toured the United States with the band Quetzalcoatl, playing traditional music from Mexico, Cuba, and Venezuela. Some of the band's venues included the Mariachi Festival USA Hollywood Bowl, UC Santa Barbara's Campbell Hall, UCLA's Wadsworth Theater, the Strawberry Music Festival in Tuolumne, CA, and the national teams soccer game USA vs. Mexico at the Rose Bowl where the band was featured as the half-time entertainment. In addition, Hugo was a part of the Music Center on Tour School Assemblies program, introducing young audiences in the Los Angeles area to traditional music from Latin America.
Hugo directed his own band Ensamble Vientos Del Sur (Winds of the South Ensemble), and produced three CD recordings. The Santa Barbara-based group was frequently featured on the UCSB World Music Series, co-presented by the UCSB MultiCultural Center and the Ethnomusicology Program in the Department of Music. The ensemble performed a fusion of different Latin American styles such as rumba, bolero, and cumbia. Delighting audiences of Southern California for more than a decade, the band's contagious rhythms always invited the audience to dance. Hugo and his fellow musicians Jose Elizarraraz and Robert Gutierrez performed on guitar, charango, zampoñas, quena, cajon, and congas.
At UC Santa Barbara, Hugo taught and directed the UCSB Son Jarocho Ensemble, a course supported by funds from the UC Santa Barbara Division of Humanities and Fine Arts. Son jarocho is a vibrant music and dance tradition from Mexico's Sotavento region (including parts of Veracruz, Tabasco, Oaxaca, and Chiapas). The genre reflects the synthesis of Mexico's African, Spanish, and Indigenous influences in an evolving tradition that continues to thrive among current generations in Mexico and beyond. The essence of son jarocho is expressed in an event known as a fandango. As the fandango is an inclusive space where all are welcome to participate in an accepting and energized environment, Hugo made known that all were welcome in the UCSB Son Jarocho Ensemble. Musicians at all levels of musical ability, from beginner to experienced, were encouraged to join.
"Hugo Macario, and his mentorship as the instructor of UCSB's Son Jarocho Ensemble, has influenced the musical and personal lives of such a vast population," said Alexis Mancilla, a Bachelor of Music student in Hugo's Son Jarocho Ensemble class. "His enthusiastic spirit, welcoming persona, and admirable leadership has perpetuated a community that continues to celebrate the music, ethnicities, and culture of the Mexican Afro-Spanish and Indigenous peoples. Always eager to engage with his students, Hugo Macario devoted his career to extending his own skills to a broader community, and always fostered an environment that encouraged passion, individuality, expressivity, and camaraderie. As an educator and mentor, Professor Hugo Macario has symbolized such an imperative aspect of my developmental growth to becoming a more well-rounded musician and student. His ideals and essence will forever be circulated, appreciated, and celebrated by the community he contributed immensely to."
Hugo's love for performing and teaching left a lasting impression on his students and audience members, and his impact on the Department of Music and the UC Santa Barbara community will be felt for years to come.