Doctor of Musical Arts candidate Kelly Guerra named finalist in Catapult Opera Accelerate Competition
Doctor of Musical Arts candidate Kelly Guerra named finalist in Catapult Opera Accelerate Competition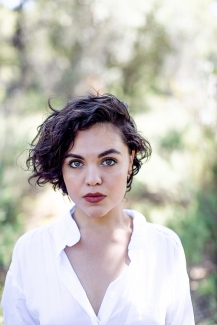 Media Contact
Adriane Cleary
Marketing and Communications Manager
UC Santa Barbara Doctor of Musical Arts candidate and mezzo-soprano Kelly Guerra has been named a finalist in the team-based Catapult Opera Accelerate Competition, which was created to inspire innovation and creativity during this time of socially-distanced performances. Guerra and her team were given a grant of $1,000 to create a video depicting an excerpt from Los Angeles-based composer David Hertzberg's opera The Wake World.
Described as a "hallucinatory choral fantasy," the work was originally scored for five instruments and nine singers, and is based on a fairy tale written by British poet, magician, and occultist Aleister Crowley. According to the synopsis, the story describes "an ecstatic journey of initiation through Hermetic runes, as Lola is led by her fairy prince through a magical palace to enlightenment." Premiered in 2017 at the Barnes Foundation by Opera Philadelphia, The Wake World was named the winner of the 2018 award for Best New Opera from the Music Critics Association of North America.
"After many zoom calls, we assembled a team made up of two singers, soprano Sara Lemesh and myself; pianist Allegra Chapman; director Attilio Rigotti; editor Orsoyla Szánthó; and audio engineer Matt Carr," explained Guerra of her experience recording the project. "The filming was done remotely with GoPro cameras, meaning our director and editor (who is in Hungary!) were on Zoom, telling us where to point the cameras. The pianist was in SF, and recorded an orchestral reduction with regular and toy piano, as well as a synth part for the choral parts. Matt the audio engineer added a click track and conducted the piano reduction, so the singers could sing with the track. The process was about two weeks, and we were given that small constraint to make an opera film in the COVID-19 era. We opted for go-pros to be as safe as possible!"
Guerra's video will be judged in the final round of the competition following a public viewing period online from October 5-12, 2020, with prizes being announced the following week. An adjudication panel of five industry professionals will award four prizes: First Prize, Second Prize, Innovation Prize, and the Audience Choice award. The audience choice vote will stand for one additional vote on the adjudication panel.
View the full video submitted by Guerra and her team here. A link to vote for the video for the Audience Choice award is also available at that link.
Guerra is a Doctor of Musical Arts candidate in Voice in the studio of Dr. Isabel Bayrakdarian.