Doctoral Candidate Cloe Gentile Reyes featured as panelist for Indiana University's Innovation in Art Song Virtual Summit
Doctoral Candidate Cloe Gentile Reyes featured as panelist for Indiana University's Innovation in Art Song Virtual Summit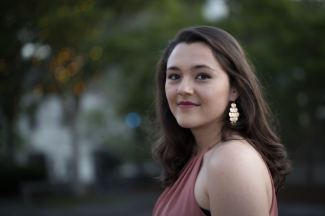 Media Contact
Adriane Cleary
Marketing and Communications Manager
Cloe Gentile Reyes, a PhD Candidate in Musicology at UC Santa Barbara, will be featured as a panelist for the Innovation in Art Song Virtual Summit, which will be hosted by Indiana University on March 26 and 27, 2021.
Gentile Reyes will be a guest speaker on a panel discussion on Friday, March 26 at 6 pm EDT titled "Gender and Art Song," which will also feature tenor Matthew Valverde, as well as composers Ricky Ian Gordon and Mari Esabel Valverde. Moderated by Indiana University doctoral voice student Cathy Compton, the panel will explore what role gender has played in Art Song and how that is rapidly shifting. The group will also examine new pieces being created which aim to break the normative bonds between text and music.
All sessions are free and open to the public. Learn more and register for the summit here.
Gentile Reyes is a fourth-year PhD Candidate in Musicology at UC Santa Barbara, where she works with Assistant Professor Dr. Martha Sprigge. Her research focuses on issues of sexism and colorism in U.S. Latinx and Puerto Rican music throughout the 20th-century. She is particularly interested in representations of women in bolero, salsa, rap, and reggaetón.