Doctoral Candidate Kelly Guerra to be featured in Metropolitan Opera Guild Master Class
Doctoral Candidate Kelly Guerra to be featured in Metropolitan Opera Guild Master Class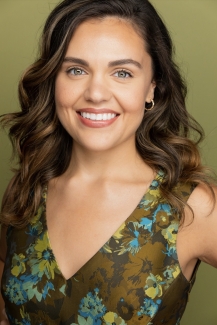 Media Contact
Adriane Cleary
Marketing and Communications Manager
Peruvian-American mezzo-soprano and UC Santa Barbara Voice Program doctoral candidate Kelly Guerra will be featured in a masterclass hosted by the Metropolitan Opera Guild on Sunday, January 31, 2021 from 3-4:30 pm ET. The class will be led by Master Teacher and soprano Jane Marsh, and will focus on the score of Charles Gounod's Roméo et Juliette. Marsh will guide Guerra, soprano Lily Arbisser, and tenor David Bailey through the musical and vocal nuances of the work, with Eric Sedgwick at the piano. Guerra will present the recitative and chanson, Que fais-tu, blanche tourterelle?, from Act III, Scene 2.
The masterclass will be hosted via the Metropolitan Opera Guild's online-learning platform, Thinkific, and is open to the public. Registration is $40 for the general public and $35 for Met patrons, Guild members, and students. Register for the class and find more information here.
Earlier this January, Guerra also participated in the Metropolitan Opera National Council Auditions for the Los Angeles District of the Western Region. The auditions, which take place in 39 districts and 12 regions throughout the United States, Canada, and Mexico, are designed to discover promising young opera singers and aid in the development of their careers.
Guerra will graduate in March 2021 with a Doctor of Musical Arts degree in Voice from UC Santa Barbara, where she studies with Associate Professor Dr. Isabel Bayrakdarian. Guerra was most recently noted as a "standout" in the Wall Street Journal for her performance with the Tanglewood Music Center as Mrs. Doc in Leonard Bernstein's A Quiet Place.
In Spring 2021, Guerra will sing Zweite Dame in Lighthouse Opera's Die Zauberflöte and will sing with the Metropolitan Opera Guild. During the 2019-2020 season, Guerra was an Opera Santa Barbara Chrisman Studio Artist where she covered the roles of Suzuki in Madama Butterfly and Donna Rosa in Il Postino. Due to COVID-19 cancellations, Guerra was unable to perform the role of Stéphano in Roméo et Juliette during their season.
Guerra has been featured at the Lucerne Festival, Tanglewood Music Center, and the Bard Music Festival. She has performed with a variety of ensembles including the Albany Symphony, Santa Barbara Symphony, Garden State Philharmonic, The Orchestra Now, Contemporaneous, Opera Parallèle, and BluePrint.
As a first-generation American and native of Southern California, Guerra is passionate about producing projects that raise awareness and monetary aid for detained immigrants in the USA as well as performing excellent music composed by underrepresented groups. She holds her master's in music from the Bard College Conservatory and her bachelor's from the San Francisco Conservatory of Music, where she graduated with an award of Vocal Excellence.