Doctoral Candidate Stewart Engart featured on UNC Compose Carolina Series
Doctoral Candidate Stewart Engart featured on UNC Compose Carolina Series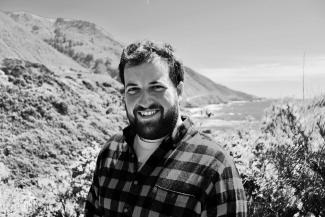 Doctoral candidate Stewart Engart will have his work, Usynlig, featured on Friday, July 23 at 12 pm ET on the second-annual Compose Carolina summer music series, hosted by the University of North Carolina at Chapel Hill Department of Music and Carolina Performing Arts. The live stream event will feature Engart in conversation with a faculty moderator, the premiere of his work, and a casual "program notes" conversation and Q&A.
The Compose Carolina weekly virtual series features the premieres of four original musical compositions ranging in genre and style, written by alumni and students of the UNC Department of Music Composition Program on a given theme. The prompt for this year is "In The Now," and can be interpreted freely by the composers, from the literal to the very metaphorical.
This summer, the series welcomes three new UNC alumni composers, Trinity Vélez-Justo, Alex Van Gils, and Engart, for the debut of three diverse solo compositions, as well as a group of UNC student composers and musicians who will re-interpret the Greek tale of Orpheus and Eurydice through their score.
Audience members must register for Stewart Engart's presentation to view the live stream on Friday, July 23 at 12 pm ET. This event will not be recorded, so please review the Carolina Performing Arts' livestream events guide for tips on how to watch.
Engart is currently completing his PhD dissertation on algorithmic music composition at UC Santa Barbara where he studies with Clarence Barlow, Joao Pedro Oliveira, Curtis Roads, and Andrew Tholl. He is a Southern California-based composer, performer, sound artist, and creative coder working in the fields of experimental electronic music, audiovisual installation, and innovative chamber music. His work explores computer-assisted musical form and gesture, as well as experimental synthesis techniques.