Doctoral Composition Candidate Rodney DuPlessis selected as Finalist for Musica Nova International Electroacoustic Competition
Doctoral Composition Candidate Rodney DuPlessis selected as Finalist for Musica Nova International Electroacoustic Competition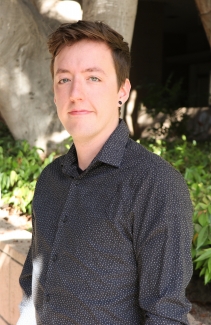 Media Contact
Adriane Cleary
Marketing and Communications Manager
UC Santa Barbara Doctoral Composition Candidate Rodney DuPlessis was selected as a finalist for the Musica Nova International Electroacoustic Competition for his work De Rerum Natura. The concert of finalists will be streamed live on Friday, December 18, 2020 at 10 am Pacific Standard Time (7 pm in Prague, Czech Republic) on the Musica Nova YouTube channel.
DuPlessis' work will be presented alongside works by composers Annette Vande Gorne, James O'Callaghan, Louise Rossiter, and Apostolos Loufopoulos.
In 2020 alone, De Rerum Natura has been a finalist for three other major awards, including the Society for Electro-Acoustic Music in the United States (SEAMUS)/The American Society of Composers, Authors and Publishers (ASCAP) Award, SIMEC Electroacoustic Music Competition, and the Destellos International Electroacoustic Competition.
"De Rerum Natura is inspired by the concept of ""naturalness"" in physics, which presents a conflict between truth and beauty," noted DuPlessis. "In physics, the most natural theories ought to have dimensionless ratios of order 1 and ought not to have fine-tuned parameters. The tension between this widely applied concept on the one hand, and the promise of science to shed all bias in pursuit of truth on the other, guided my meditation within the soundscape of this piece. The sound material was recorded by the composer in Australia (Alpine National Park), Paris, Siena, and California. Composed at Musiques & Recherches in Belgium and at CREATE in California (2019-2020). The blending and processing of sounds reflects the tension between nature and naturalness; the way things are and the way we want them to be."
Listen to De Rerum Natura here.
In his music and research, DuPlessis explores the intersections and boundaries of physics, chaos, psychoacoustics, human-computer interaction, and novel synthesis techniques. The sonic results are often equal parts visceral and cerebral. His music has been performed and recognized with awards internationally.
As a programmer, DuPlessis develops synthesis, control, and sound transformation software that expands the artist's toolbox. As a producer, he has directed multiple festivals and concerts. His teachers have included Curtis Roads, Clarence Barlow, João Pedro Oliveira, and Martin Kutnowski.
DuPlessis is currently finishing a Doctor of Philosophy in Composition and a Master of Science in Media Arts & Technology at UC Santa Barbara.
Learn more about the Musica Nova competition here.