Dr. Martha Sprigge Releases First Book with Oxford University Press
Dr. Martha Sprigge Releases First Book with Oxford University Press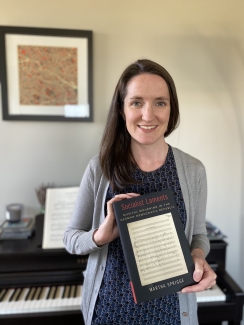 Media Contact
Adriane Cleary
Marketing and Communications Manager
UC Santa Barbara Assistant Professor of Musicology Dr. Martha Sprigge released her first book, Socialist Laments: Musical Mourning in the German Democratic Republic, with Oxford University Press in April 2021.
Socialist Laments: Musical Mourning in the German Democratic Republic examines a vast repertoire of commemorative works to present a history of musical mourning in communist East Germany (1949–1990). Taking a site-specific approach to this repertoire, Dr. Sprigge demonstrates how music became a crucial outlet for processing loss in a country where the ruling Socialist Unity Party tightly regulated public expressions of grief.
"I was inspired to write this book while wandering around spaces of the former East Germany: through cemeteries, along streets paved with memorial markers, into churches, synagogues, archives, and around overwhelming memorial sites like concentration camps and Soviet monuments," shared Dr. Sprigge. "These sites bear traces of loss and grief that elude words—whether through their traumatic histories or their political framings. This realization made me hear the commemorative music of the former communist state differently. In short, walking through memorial spaces of the former East Germany inspired me to ask two questions that I try to answer in Socialist Laments: how do individuals and communities use music as a form of mourning? And what does musical mourning sound like in situations where political ideology and cultural norms place constraints on public expressions of loss?"
Socialist Laments: Musical Mourning in the German Democratic Republic is part of the New Cultural History of Music series published by Oxford University Press. Part of the introduction of the book is available on Google Books.
Dr. Sprigge is a music historian whose research examines musical expressions of mourning, grief, and remembrance in Germany after World War II. Her essays on musical commemorative practices in East Germany appear in the Journal of the Royal Musical Association, the journal Twentieth Century Music, and in recent edited volumes on German music and culture. She is an Assistant Professor of Musicology at UC Santa Barbara, where she enjoys working with students from across the university in courses that explore musical practices in their cultural contexts (past and present).