Ethnomusicology PhD Candidate Eugenia Siegel Conte will be a discussant in The Choral Commons TalkBack on Empowering Song approach in Prison Contexts
Ethnomusicology PhD Candidate Eugenia Siegel Conte will be a discussant in The Choral Commons TalkBack on Empowering Song approach in Prison Contexts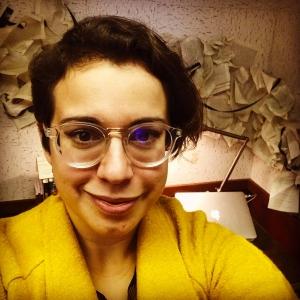 Media Contact
Adriane Cleary
Marketing and Communications Manager
UC Santa Barbara Ethnomusicology PhD Candidate Eugenia Siegel Conte will participate in a TalkBack with The Choral Commons on Wednesday, July 15, 2020 at 1 pm PT. The talk will primarily feature Emily Howe and Bobby Iacoviello, special guests from the latest Choral Commons podcast episode, "Empowering Song, Incarceration, and the Choir," and Conte will discuss the creative process associated with a creative choral response that is offered in tandem with the podcast episode.
Conte instigated, workshopped, and produced a short choral piece in collaboration with Boston-based choir Voices 21C (of which Conte is also a member) that offers creative commentary on the podcast. In the creative response, the group explored "what it can feel like, emotionally and physically, to be restrained—particularly, restricted in speech or sound." Read her full commentary, and hear the short piece, entitled "You/Don't/Say," here.
The Choral Commons is a set of podcasts, artistic responses, and resources for choirs invested in social justice work and messaging. Learn more about the organization at thechoralcommons.com.