Faculty Emeritus Dr. Jeremy Haladyna features UC Santa Barbara Collaborators on New Centaur Album Release
Faculty Emeritus Dr. Jeremy Haladyna features UC Santa Barbara Collaborators on New Centaur Album Release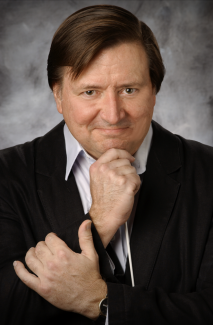 Media Contact
Adriane Cleary
Marketing and Communications Manager
UC Santa Barbara Faculty Emeritus Dr. Jeremy Haladyna announced the release of his third album, Pok-ta-Pok: Sky Games from the Mayan Cycle, via Centaur Records in early April 2021. It is available now for purchase and download from all major outlets, including Naxos, Apple Music, Spotify, and more.
The album features all original music by Haladyna, with performances by UC Santa Barbara Professor of Flute Jill Felber, alumna vocalist Allison Bernal (Bachelor of Music, 2011), and cellist Virginia Kron, who has appeared as a guest soloist at UC Santa Barbara's Primavera Festival.
"This is an album that owes much to UCSB talent," wrote Haladyna, "not the least of which is the Music Department's David Cesca who patiently tuned or made ready multiple pianos, a 2-manual harpsichord, and an often temperamental Flentrop organ in the concert hall."
Professor Jill Felber's contribution originates from 1992. "I was three years' arrived on the campus, and it was already clear that UCSB's composers had a special interpreter in Jill Felber," said Haladyna. "You could supply 100% of yourself in writing for her, and then be amazed to see how she supplied an additional fifty! On the Mat of the Jaguar Priest was memorably done here with staged choreography by Alice Condodina, then a professor of dance.
"Jill has since taken the piece all over the hemisphere, and I'm particularly grateful for the outings it has had at colleges and universities, where she is a frequent clinician. Students need to see how much imagination she brings to such a 'role.' Seeing her do the piece is even better than hearing it!" Haladyna's authentic inspiration came from the central figure populating real Maya manuscripts of the colonial period, Los Libros del Chilam Balam.
"UCSB has cause to mightily celebrate its voice undergraduates," Haladyna maintained. "Having worked with or admired several from a distance, I know whereof I speak." Baritone Justin Plank from William Kraft's opera Red Azalea, mezzo-soprano Blythe Tai, and soprano Allison Bernal are three names Haladyna could readily proffer.
"Allison in particular has been a remarkable help to me; this is her 2nd appearance on one of my albums," he continued. "I will never forget the day we recorded for Maya Zodiac. This is a complex piece which ties together 3 of my original scales. Allison sings in just one scale, but the notes I was asking her to sing back in 2015 are from 'outer space.' All I did was send her a practice tape with archaic flutes taking her pitches. Then, the day to record came…
"Allison arrived (there were no rehearsals) and we went right down to the Varèse studio to record. There she unfolded some manuscript paper with all kinds of cryptic symbols on them, in addition to regular notes. There were arrows up and down, to be sure, but that's not all there was. It was some kind of magical code, because to my utter astonishment she knocked out all 13 phrases in just 90 minutes! Several of them, she did in a single take! Now, I invite anybody to take the CD and go over to a well-tuned piano and find on it the notes she's singing...you may find one or two analogs, but by and large, they're not there! I'm all the more in awe because I couldn't do it; my larynx and my brain just haven't sufficiently made peace, whereas Allison can do it all but blindfolded! It all suggests a rosier future for microtones, given young performers like her, than we ever imagined!"
In Ojai's Virginia Kron, also on Haladyna's new album, "you have united a selfless advocate with a prodigiously accomplished technician," noted the composer. "On so many occasions, both for William Kraft's New Music Festivals of the '90s, as well as his own recordings...and then also for the novice students at CCS only just learning to write for cello, Virginia committed herself to our needs. It wasn't necessary that you had a piece already greenlighted somewhere else. It wasn't necessary that you had even written for cello before! The very idea that we had this pillar of the Cabrillo Festival, for whom whole concertos had been written, at the disposal of undergraduate students was inspiring—we knew it was something very, very rare.
"To a composer, Virginia is what you can only hope for a scant number of times: a performer that will absolutely l-i-v-e with what you've written until she can make it leap off the page and into sound-space...the seasoned player who will devote the time necessary to allow the music to 'cure,' when it may even take on a lovely 'patina' you didn't know was there!"
The Mesoamerican ballgame, which has already received a host of cinematic treatments, offers the title for Haladyna's new Centaur release. Pok-ta-Pok is only one old name for it. The game was something Haladyna—as composer—could not ignore, particularly after he had himself stood, center-field, in the ancient sport's largest arena, the ballcourt of Mexico's Chichen Itzá.
"Anyone can go to my website, mayancycle.com, and read the story of what I heard standing there," said Haladyna. "At center field the Maya were connected to the stars via the Milky Way, which they called a 'sky umbilical cord.' I've written music that slams us onto the field, down from outer space like a projectile. Then at 2:45 ballgame play begins. Two teams compete—(left-channel/right-channel)—slugging it out brutally for dominance. Yes, the ball goes through one of the rings—something that rarely happened in real play. But that lucky event only puts someone else in the direst of perils! Such are the vagaries of the bouncing ball…"
Jeremy Haladyna's Pok-ta-Pok is now available for purchase and download from major outlets, including Naxos, Apple Music, Spotify, and more.
More about UCSB Emeritus Faculty Jeremy Haladyna
Eleven trips to the Mayan region and an immersion of some 35 years into Pre-Columbian thought have indelibly impacted Haladyna's work. His Mayan Cycle now stretches to 35 pieces in diverse genres, over half of which have seen digital release.
As a performer, Haladyna has appeared on five labels (Albany, CRI, Centaur, Neuma, innova) and in the multiple roles of pianist, conductor, organist—even, turntablist. His own music has been heard at Carnegie (Weill) Hall; South Bank Centre, London; the Monday Evening Concerts, Los Angeles; St. Paul's Cathedral, London; and the National Museum of Art, Mexico City. Guest residencies include the Chopin Academy, Warsaw; a colloquium at Kings College, London; and in 2009, "Mayan Cycle" elements were brought to concerts in Istanbul, Turkey. His music has been featured over-the-air in Australia, Canada, New York (WQXR's Q2), Philadelphia, and Chicago inter alia.
Haladyna retired from UC Santa Barbara in June 2019, after serving over 25 years on the Composition faculties of both the Department of Music and the College of Creative Studies. A laureate of the Lili Boulanger Prize and diplômé of the history-rich Schola Cantorum on Paris' Left Bank, he holds prizes and academic qualifications from three countries, as well as advanced degrees from the University of Surrey (U.K.) and the University of California. Haladyna began teaching undergraduate composition at UC Santa Barbara in 1991 and was named to its permanent faculty in March 2000. His own past teachers include William Kraft, Karl Korte, Eugene Kurtz, Jacques Charpentier, and Joseph Schwantner. Haladyna assumed the Directorship of the Ensemble for Contemporary Music in 2003 upon the retirement of William Kraft, and held that position until his own retirement in 2019.