Graduate Student Alvise Pascucci to give Virtual Solo Piano Recital from Teatro degli Industri of Grosseto, Italy as part of Scriabin Concert Series
Graduate Student Alvise Pascucci to give Virtual Solo Piano Recital from Teatro degli Industri of Grosseto, Italy as part of Scriabin Concert Series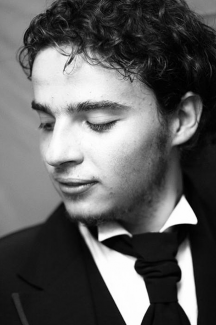 Media Contact
Adriane Cleary
Marketing and Communications Manager
UC Santa Barbara doctoral student Alvise Pascucci will give a virtual solo piano recital from the Teatro degli Industri of Grosseto, Italy as part of the Scriabin Concert Series on Wednesday, December 23, 2020 starting at 6 pm local time (9 am Pacific Time). The recital will be streamed live via Teatri di Grosseto's YouTube channel and the video will also be available to view after its premiere. The program will include Ludwig van Beethoven's Variations and Fugue in E-flat Major, Op. 35 and Robert Schumann's Fantasy, Op. 17 in C Major. Please visit the Scriabin Concert Series' Facebook page and the Facebook event page for Pascucci's recital for more details.
Pascucci has been awarded over 60 prizes in national and international competitions. He has performed in various venues, including Steinway Hall in London, UK, Military Circle Hall in Ploieşti, Romania, Teatro degli Industri of Grosseto, Italy, Dar Sebastien in Hammamet, Tunisia, and the Gnessin Academy of Music concert hall in Moscow, Russia. He has played as a soloist with several orchestras including Orchestra Città di Grosseto, the Taipei Philharmonia Orchestra, and the Philharmonic Orchestra of Ploiesti. His 2019 commitments included concerts in New York at the Weill Recital Hall of Carnegie Hall, Taiwan and Italy.
In 2017, he relocated to Indiana, where he obtained a Performer Diploma from the Jacobs School of Music at Indiana University, studying with Roberto Plano. He is now working towards his Doctor of Musical Arts with Professor Paul Berkowitz at UC Santa Barbara, where he has been awarded the prestigious Chancellor's Fellowship.