Lecturer Jonathan Moerschel featured as member of Calder Quartet during virtual edition of Ojai Music Festival
Lecturer Jonathan Moerschel featured as member of Calder Quartet during virtual edition of Ojai Music Festival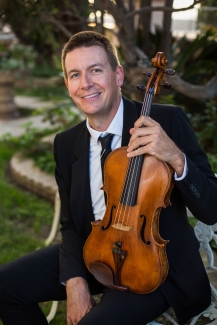 Media Contact
Adriane Cleary
Marketing and Communications Manager
UC Santa Barbara Lecturer and violist Jonathan Moerschel was recently featured as a member of the Calder Quartet during the 2020 Ojai Music Festival, which took place virtually from Thursday, June 11th to Sunday, June 14th.
In the absence of an in-person festival, the virtual festival featured pre-recorded conversations and performances by artists and composers that would have performed or had their music performed live at this year's festival, such as Ensemble intercontemporain, the Calder Quartet, composers Olga Neuwirth and Steve Reich, as well as Music Director Matthias Pintscher. The organization released a curated list of links to videos and audio recordings for each day of the festival, which included recordings of John Cage's String Quartet in Four Parts and Charles Ives' String Quartet No. 2 by the Calder Quartet.
For Saturday's program, the Calder Quartet served as the featured artists and participated in a pre-recorded conversation hosted by Ara Guzelimian, the Artistic Director Designate of the festival. Violinists Benjamin Jacobson and Tereza Stanislav, violist Jonathan Moerschel, and cellist Eric Byers discussed the effects of the pandemic and isolation on the quartet, Beethoven's String Quartet No. 14, Op. 131, the quartet's expansive and varied repertoire, and more.
Watch the full conversation with Ara Guzelimian here. Listen to the quartet's performance of John Cage's String Quartet in Four Parts and more for the virtual edition of the Ojai Music Festival here.
Moerschel serves as Lecturer of Viola and Director of Chamber Music at UC Santa Barbara.