Lecturer Maxim Kuzin serves as Chair of Instrumental Division for 13th Annual Colibri International Arts Competition for Young Performers
Lecturer Maxim Kuzin serves as Chair of Instrumental Division for 13th Annual Colibri International Arts Competition for Young Performers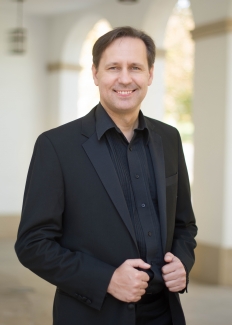 Media Contact
Adriane Cleary
Marketing and Communications Manager
UC Santa Barbara Lecturer Maxim Kuzin is serving as Chair of the Instrumental Division for the 13th edition of the Colibri International Arts Competition for Young Performers, which is organized by the Unity in Diversity Arts Foundation (UIDARTS) with the support of the City of West Hollywood. The competition is held annually and consists of four individual competitions—Instrumental, Vocal, Dance, and Visual Art—and runs from September to December.
The event usually takes place in-person in West Hollywood and involves over 600 competitors between the ages of 4 and 20. Even though the 2020 edition of the competition is being held virtually, the Instrumental Division alone received over 100 applications from piano and string students ages 8-18, from all over the world. Winners of the Instrumental Division will be announced on November 14-15, 2020.
Kuzin, who is also serving as an adjudicator for the third time, noted that the competition "provides an excellent opportunity for young talents up to the age of 18 to present their art of playing a string instrument or piano. This year it is a particularly exciting opportunity for young musicians since the competition is held entirely online due to the COVID-19 restrictions and the contestants are representing an entire globe with no in-person or travel limitations. Therefore, the Colibri Competition provides an excellent place to show one's musical talent, to compete against other talented kids and youth, and to win a Grand Prix and other prizes."
"As Chair of the Instrumental Division of the Colibri Competition for the second time and a third-time judge of the competition, I am very excited to see so many young talents devoted to performing classical music every year. I think having the Colibri Competition providing a platform for classical music-making, visual art presentation, and dancing to young generations of talented artists is extremely important, particularly in the course of the unprecedented pandemic we all are experiencing. I am confident that the Colibri Competition serves as additional motivation for the young talents to strive for excellence, to practice their art even harder, and to win or find out where one stands in the framework of other contestants!"
Learn more about the Colibri International Arts Competition for Young Performers here.
Kuzin currently serves as Director of the UC Santa Barbara Chamber Orchestra, as well as Music Director of the Symphony Orchestra at Orange Coast College in Costa Mesa, California. He is a graduate of the Doctor of Musical Arts program at UCLA where he studied with Professor Neal Stulberg. Before arriving in the U.S. in 2014, Dr. Kuzin held concurrent positions in Ukraine as Music Director of the Reinhold Glier Kyiv Institute of Music's Symphony and Chamber orchestras and Head of the Opera Department of Dnipro Glinka Conservatory of Music.