MA/IN 2022 Awards to Department of Music Composers
MA/IN 2022 Awards to Department of Music Composers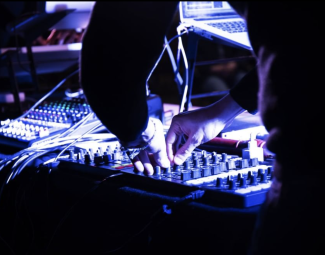 Congratulations to Dariush Derakhshani, current UCSB PhD candidate in composition, João Pedro Oliveira, UCSB professor and Corwin Chair of Composition, and Rodney Duplessis, a UCSB composition alumni, on being awarded for this year's MA/IN festival.
MA/IN is an international festival—held annually in south Italy—which celebrates innovations in electroacoustic music and digital art. The 2022 festival's call for works included acousmatic and instrumental music with electronics/multimedia (live or fixed), as well as audiovisual works, intermedia performances, and sound/media installations. Derakhshani was honorarily mentioned in the live performance/sound art category for Pārsa, Oliveira in the audiovisual for Coalescence, and Duplessis in the acousmatic for Psi. These three were selected by the festival panel out of 388 submissions, from 52 countries.
The selection panel included Annette Vande Gorne, Horacio Vaggione, Sarah Nemtsov, Anna Korsun, Fabio Cifariello Ciardi, Flavia Mazzanti, Daniele Ghisi, Gregory Charette, Marco Donnarumma, Giulio Colangelo, Cesare Saldicco, and Vittorio Montalti. The latter three panelists were from LOXOS, of which the festival is a project.