Professor Emeritus Dr. Joel Feigin releases New Album of Music for Chamber Orchestra with Toccata Classics
Professor Emeritus Dr. Joel Feigin releases New Album of Music for Chamber Orchestra with Toccata Classics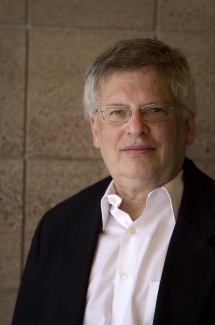 UC Santa Barbara Professor Emeritus of Music Composition, Dr. Joel Feigin, released his latest album, Joel Feigin: Music for Chamber Orchestra, on Friday, July 2 with Toccata Classics. The album includes Aviv: Concerto for Piano and Chamber Orchestra (2009); Surging Seas for string orchestra (2012); and Mosaic in Two Panels (1997) for string orchestra.
Also included is Two Songs from Twelfth Night (2013), excerpted from Feigin's opera Twelfth Night. Based on Shakespeare's comedy, Twelfth Night was given its West Coast premiere in 2015 by UC Santa Barbara Opera Theatre, and was hailed as a "glittering masterpiece" by critic Dan Kepl. In late 2015, UC Santa Barbara's production received First Place in the National Opera Association's Production Competition in Division II. Excerpts of the opera have also been featured at New York City Opera's VOX Showcase series and Opera America's New Works Sampler.
Feigin's Music for Chamber Orchestra features performances by pianist Yael Weiss and baritone John Savournin, as well as the Slovak National Symphony Orchestra under the direction of Kirk Trevor, and the Chamber Orchestra Kremlin, conducted by Misha Rachlevsky.
Toccata Classics describes the album as follows: "It might seem that modern classical music rarely expresses happiness – but Aviv, a piano concerto by Joel Feigin (born in New York in 1951), suggests the warmth and optimism of the coming of spring. The angular, even anguished, essay for strings Surging Seas, by contrast, was inspired by the devastation wrought by the tsunamis of 2004 and 2011. The Two Songs from Twelfth Night have their origins in the tradition of American orchestral song established by Samuel Barber. And in the diptych Mosaic, also for strings, a first 'panel' of heartfelt lyricism is succeeded by an outburst of buoyant energy."
Feigin notes that, "this album offers a retrospective on the different periods of my creativity and feels like a natural outgrowth of my recent retirement from teaching at UCSB and the opening of the Joel Feigin Collection at the New York Public Library of the Performing Arts at Lincoln Center...at the same time, it opens up the path towards new and different work to come, the foremost a collaboration with recent UCSB graduate Brandon Rolle, who is creating the electronics for my opera-in-progress, Outcast at the Gate."
Joel Feigin: Music for Chamber Orchestra is available to purchase here.
Dr. Feigin is an internationally performed composer, whose operas, chamber, orchestra, and piano works have been widely praised for their "very strong impact, as logical in musical ensign as they are charged with emotion and drama" (Opera Magazine). Honors include a Guggenheim fellowship to write his first opera, Mysteries of Eleusis; a Senior Fulbright Fellowship at Moscow Conservatory (Russia), where Mysteries of Eleusis was again performed and repeated the next year at the Russian-American Festival of Operatic Art. A Fromm Foundation Commission led to the composition of Aviv: Concerto for Piano and Chamber Orchestra, written for Yael Weiss, who performs it on the new album. Previous albums include Lament Amid Silence (MSR Classics), featuring then-UCSB Professor Helen Callus and her students. An earlier two-CD set, Transience (Albany Records) followed an all-Feigin concert at New York's Merkin Hall. Other concerts devoted solely to Feigin's music have been given in Russia and Armenia, and in New York at Lincoln Center's Bruno Walter Auditorium.
Dr. Feigin studied with Nadia Boulanger at Fontainebleau and with Roger Sessions at The Juilliard School. An accomplished pianist and accompanist, Dr. Feigin also studied with Rosina Lhevine, and worked at the Metropolitan Opera in New York with Nico Castel.
The Joel Feigin Collection at the New York Public Library of the Performing Arts at Lincoln Center opened in 2011.
To learn more about Dr. Feigin, please visit joelfeigin.com.