Professor of Horn Dr. Steven Gross Awarded Contract with Naxos Records
Professor of Horn Dr. Steven Gross Awarded Contract with Naxos Records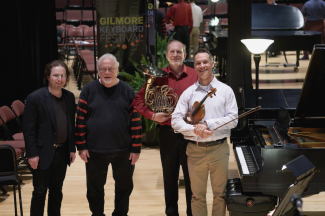 Media Contact
Adriane Cleary
Marketing and Communications Manager
UC Santa Barbara Professor of Horn Dr. Steven Gross has been awarded a contract by Naxos Records to release the premiere recording of William Bolcom's Trio for Horn, Violin and Piano. Professor Gross partnered with American Double—violinist Phil Ficsor, based in Denver, and pianist Constantine Finehouse, from Boston—for the recording, which will be released in November 2021.
The Trio was commissioned by Professor Gross in 2017, with the intent of creating a chamber work similar in stature to the Trio Op. 40 of Johannes Brahms, which, according to Gross, "rises as a towering monument over the horn chamber music literature." Professor Gross also noted that the Trio of Brahms has a "profundity and depth that have inspired generations of musicians that have performed it. It is fitting that one of the most prominent of contemporary composers approach this medium, so I commissioned the eminent American William Bolcom to write a modern counterpart. His prodigious composing skill is obvious. In addition, he smoothly incorporates multiple styles into a listenable, yet substantive eclectic. His output includes chamber, operatic, vocal, instrumental, choral, and symphonic music, with elements of cabaret, ragtime, jazz and showtunes."
An emeritus professor at the University of Michigan, Bolcom is recipient of the National Medal of Arts, Pulitzer Prize, and a Grammy Award. Of his Trio, the composer states, "It is occasioned—I don't want to write 'inspired'—by the era we're living in. So many of us feel desperation from the constant endangering of our country and the world; I wrote the Trio to express this, hoping listeners might possibly feel less alone. The heavy plodding rhythms of the first movement are supplanted by a hectic second...The following slow movement contains a short moment of respite toward its end—a brief breakthrough of tonal sunshine in C major—and the finale is a resolute march of resistance."
"More importantly," noted Professor Gross, "the composer's intention can be understood in the greater perspective of time as a tale of struggle against adversity, personal determination, revelatory beauty, and overcoming great obstacles."
Violinist Phil Ficsor and pianist Constantine Finehouse of American Double are William Bolcom specialists, having together recorded what stands as the only release of Bolcom's complete works for violin and piano. Individually, Finehouse and Ficsor have also recorded solo piano and violin works of Bolcom, both having worked with the composer to ensure fidelity to his musical intent.
Dr. Gross is Professor of Horn and Head of the Woodwind, Brass, and Percussion Area at the University of California, Santa Barbara. Dr. Gross is also a former member of the Atlanta Symphony, National Symphony, Santa Fe Opera Orchestra, and for 24 years Principal Horn of the Cincinnati Chamber Orchestra. His international appearances include the Camerata Filarmonia Bohemia of Prague, Orchester der Stadt Vöcklabruck in Austria, Moscow Conservatory, L'Abri International Arts Festival in Switzerland, Beijing Central Conservatory, Nairobi Symphony in Kenya, St. Petersburg Conservatory of Russia, and the Crescendo Summer Institute in Hungary.
Dr. Gross has previously released five solo recordings with orchestra on the Summit label, plus one for horn accompanied by piano, as well as organ.
Read more about Professor Gross at stevengrosshorn.com.
Professor Steven Gross and American Double at Liechtenstein Palace - Bohuslav Martinů Hall in Prague.