Professor Jennifer Kloetzel hosts Third Annual "Etude Challenge" with Guest Adjudicator Anthony Arnone of University of Iowa
Professor Jennifer Kloetzel hosts Third Annual "Etude Challenge" with Guest Adjudicator Anthony Arnone of University of Iowa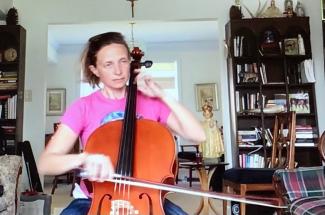 Media Contact
Adriane Cleary
Marketing and Communications Manager
Professor Jennifer Kloetzel hosted the Third Annual "Etude Challenge" for the UC Santa Barbara Cello Studio on April 6, 2021. Professor Kloetzel invited Anthony Arnone, Professor of Cello at the University of Iowa, to serve as guest adjudicator.
"Technique is something that every musician must work on, and often it can be a bit dull, I'm afraid. I created Etude Challenge three years ago to make learning etudes more fun and to bring my class together with a common goal," said Professor Kloetzel of her inspiration behind the challenge. "Every year I choose two etudes to feature. The challenge etudes are announced the last week of winter quarter, giving students spring break to choose one and spend their break focusing on their chosen etude. At the start of spring quarter, we have a 'friendly competition' with an outside judge choosing one winner, based on the best performance. Prizes include a gift card and UCSB Cello Squad swag. Anthony Arnone, our judge for this year, also gave a talk about his new book, The Art of Listening: Conversations with Cellists, which is a wonderful collection of interviews with 13 of the top cello teachers of our time. This year, given that we were doing the competition over Zoom, I invited alumni to join in as well."
For 2021, the etudes were Etude No. 6 by David Popper and Caprice No. 4 by Adrien-François Servais. Eight cellists participated and the winner was alumna Dr. Larissa Fedoryka—zooming in from Virginia—who gave an impassioned performance of the Popper. Former winners are Hannah Paulus (Duport Etude No. 6) in 2020 and Katrina Agate (Popper Etude No. 3) in 2019.
Professor Kloetzel hosted the First Annual Etude Challenge in April 2019, with etudes by David Popper and Jean-Louis Duport and cellist Ani Aznavoorian of Camerata Pacifica serving as Guest Adjudicator. In April 2020, Trevor Handy, principal cellist of the Santa Barbara Symphony served as the second Guest Adjudicator, again featuring Popper and Duport etudes. In 2020, Professor Kloetzel added an extra challenge for her students in fall quarter, called "CellOlympics." Created as a way to test basic cello techniques, the first CellOlympics included rapid scales, thumb position etudes and long tones, and the entire studio class voted on the winner. The 2020 CellOlympics champion was UCSB Master of Music student Naomi Stoodley.
An in-demand educator and adjudicator, Professor Kloetzel has given master classes at The Juilliard School, San Francisco Conservatory, and universities throughout the United States. She taught cello and chamber music at San José State University, and has been on the faculty of the UC Santa Barbara Department of Music since 2016. In 2018, she was named Assistant Professor of Cello and Head of Strings, and in 2020, she was promoted to Professor of Cello.