Undergraduate Student Noelle Barr named a winner of the Pacific Bridge Arts Foundation's 2020 Musical Arts Scholarship
Undergraduate Student Noelle Barr named a winner of the Pacific Bridge Arts Foundation's 2020 Musical Arts Scholarship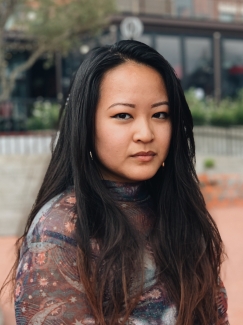 Media Contact
Adriane Cleary
Marketing and Communications Manager
UC Santa Barbara undergraduate student Noelle Barr was named one of six winners of the Pacific Bridge Arts Foundation's 2020 Musical Arts Scholarship. The Musical Arts Scholarship provides resources for Asian American, Native Hawaiian, and Pacific Islander (AANHPI) students pursuing a degree in the musical arts to break into the music industry with mentorship, networking opportunities, and financial support. The other 2020 awardees include Amy Lui, Charles Kim, Jonathan Tsai, and Andrew Sumbat, and their fields of study range from audio engineering to performance.
The Pacific Bridge Arts Foundation provides a "platform to support and celebrate Asian Americans, Native Hawaiians, and Pacific Islanders in arts and culture." The foundation works year-round to provide educational arts and culture workshops, mentorship for rising community leaders, grants for independent artists, and ceremonies to honor its awardees. The foundation's largest event, the IDENTITY LA Festival, is a large-scale concert celebrating Asian Pacific American Heritage Month.
Learn more about the Pacific Bridge Arts Foundation here.
Barr, a senior at UC Santa Barbara and a double major in Music Studies and the History of Art and Architecture, received a letter of support for the Musical Arts Scholarship from UC Santa Barbara Assistant Professor of Music History Dr. Martha Sprigge, one of Barr's primary faculty advisors at UC Santa Barbara. Barr began studying violin at the age of 9 and became a member of the Claremont Young Musicians Orchestra throughout high school, where she had the opportunity to perform and be coached by musicians of the Los Angeles Philharmonic and Gustavo Dudamel in 2015. Since attending UC Santa Barbara, Barr continues to play chamber music with the UC Santa Barbara Department of Music and is a student of UC Santa Barbara Lecturer Ertan Torgul. She has participated in masterclasses with the Danish String Quartet and New York Philharmonic violinist, Sheryl Staples. Barr is also an intern with the UC Santa Barbara Art, Design & Architecture Museum, allowing her to publish articles with LUM Art Zine, produce podcasts, and independently curate an exhibition at the Glass Box Gallery. Most recently, Barr has been granted the Howard C. Fenton Fellowship to conduct undergraduate research during the 2020-2021 academic year.