Undergraduate Students Nina Lim and Adrian Cunningham release "Fever Dream" single as duo Lotte Lemon
Undergraduate Students Nina Lim and Adrian Cunningham release "Fever Dream" single as duo Lotte Lemon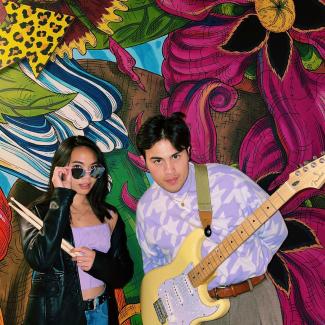 UC Santa Barbara undergraduate students Nina Lim and Adrian Cunningham released their first single, Fever Dream, as the band Lotte Lemon on June 11. Cunningham, known to audiences as AdrianQMC, performed vocals, bass, guitar, and synthesizer on the track, and Lim performed vocals, drums, and keyboard. The song was written by both Cunningham and Lim, and was mixed and mastered by Cunningham. Lim, a third-year Communication and Percussion Performance double major, and Cunningham, a third-year Music Studies and English double major, both acknowledged the Department of Music's impact on their musical development, and the eventual production of Fever Dream.
"I have been taking percussion lessons and playing in the Percussion Ensemble since my first quarter at UCSB with my professor, Jonathan Nathan," noted Lim. "My involvement in the percussion studio allowed me to explore a variety of percussion instruments and genres during the past two years. This consistent work and practice on my technique helped me confidently record the drum part on my electronic drum kit, the most vital rhythmic role in the song. Jon is also head of the Jazz Program, so I was excited when my introduction to jazz kick-started when he had me play marimba on a mallet duet called 'Buzzy John's Blues' accompanied by members of his Jazz Ensemble.
"In Fever Dream, I recorded the jazz-influenced keyboard part that could not have been pulled off without Jon's instruction and advice on playing in the genre. I also briefly participated in his Latin Jazz Ensemble in the Spring 2020 Quarter, which gave me the opportunity to try out conga drums. When Adrian wanted to put congas in the pre-choruses of Fever Dream, I felt as though I had an informed understanding of which conga grooves and sounds would be ideal when we were going through our options."
"During the spring quarter at UCSB, I took classes that would specifically help me to cultivate growth in my music creation process," said Cunningham. "The 5 Series helped me get a deeper understanding of music theory and gave me the confidence necessary to experiment with interesting changes. Like they always say, you need to know the rules before you break them! Music 88, or class composition, with Rodney DuPlessis gave me so many new tools to create new sounds for Lotte Lemon.
"Rodney and I worked extensively on learning FM and Wave table synthesis during the first half of the quarter—I translated that into building the main synthesizer patch for Fever Dream. This synthesizer is an integral part of the piece, and having a good understanding of the synthesis behind it allowed me to alter it to fit the perfect role in the song. In the second half of the quarter, Rodney taught me how to score my music. I spent a good three weeks working on scoring Fever Dream, and it's incredibly rewarding to see a full score—54 full pages!—of something that I wrote. Music 20B helped me develop my singing so much. April Amante, my instructor, was absolutely vital in my growth as a vocalist. She not only helped me to understand breath support and other essentials to producing good tone, but she helped coach me in singing my own songs."
When asked about how they started working together, both Lim and Cunningham referenced the ease with which they started collaborating in Summer 2020, and the complement of their varying sets of musical skills.
"Over Covid, I met Nina and we immediately hit it off musically," Cunningham remarked. "Her strengths complemented my strengths and it was really exciting to make music with her. Fever Dream is the very first song that we recorded together, and I'm incredibly proud of the way it turned out. I'm also ecstatic to see what we create in the future as we become more and more comfortable with one another in the music creation process."
"When Adrian started sharing his music with me as AdrianQMC over the COVID lockdown, I was very impressed by his audio mixing, composing abilities, and musicality," Lim shared. "We started making music together, which quickly proved to be a strong and exciting collaboration due to our complementary music skills. This was especially reflected in our creation of Fever Dream because the combination of our skills allowed us to write, perform, and produce everything ourselves. We are both very motivated to continue creating music for Lotte Lemon and are currently working on a full project!"
As for the name of their duo, Lotte Lemon, Cunningham said that it "came out of the blue. I had been trying to figure out a cool duo name that was both straightforward but personal to us. I thought of Lotte Lemon in the shower actually, and thought it was quirky but also highly personal since we were both UCSB music majors. I liked the idea that it was the name of a person, so it could be a bit mysterious."
Lim and Cunningham look forward to the prospect of performing live together in the near future and working on an EP that will feature Fever Dream over the summer. Fever Dream is now available on all major platforms, including Spotify, Apple Music, SoundCloud, Amazon, YouTube, Pandora, Deezer, and more.
About the Artists
Nina Lim
Nina Lim is going into her third year at UC Santa Barbara as a Communication (BA) and Percussion Performance (BM) double major. She is a member of the UCSB Percussion Ensemble, Chamber Orchestra, and intends to join the Chamber Choir this coming year. She is also a music arranger, media manager, and the music director for UCSB's "InterVals A Cappella" group.
Nina started violin when she was around five, actively playing in orchestras until her sophomore year of high school. When she was 14, she formed a piano-violin cover band called "Classically Contempo'' with her older sister Mikki that gained popularity primarily from posting short covers of their favorite songs, now totaling over 900k views on Youtube and 8.2k monthly listeners on Spotify. In high school, Nina joined the percussion section in band and stopped playing violin in orchestra when band and orchestra started conflicting with each other, allowing her to fully dedicate her time as Percussion Captain in marching band, section leader in Winter Percussion seasons, and Principal Percussionist in Wind Ensemble. Furthermore, her introduction to singing seriously began in her senior year of high school when she joined the Chamber Choir and Mixed Jazz Vocal ensemble, which was not only a highlight of her senior year but gained her so much confidence in her singing abilities.
-Nina Lim
Adrian Cunningham
Adrian Cunningham is going into his third year at UC Santa Barbara. Currently, he is a music studies and English double major, but is working on his application to the College of Creative Studies' Music Composition Major. He had always played instruments throughout his life, and bounced from violin to piano to trumpet, back to violin, until he eventually settled on the double bass in high school. At that time, he became interested in jazz and the arrangement and composition of music. This led him to form and lead a jazz combo. He gathered musicians that he knew in the music program to help him, and they put on Take Five by Dave Brubeck in concert. The drummer in his band introduced him to music production shortly after, and Adrian became hooked on the creation of digital music.
Adrian began releasing songs of his own under the name AdrianQMC, which is his full name, Adrian Quock-Ming Cunningham, shortened. He applied to UCSB as an English major, but after one quarter in English, he realized that he loved music more than anything else and wanted to pursue it in school. Upon getting into the music major, he took every class he could that would help develop him as a more well rounded musician.
-Adrian Cunningham