Adriane Cleary (Hill)
Adriane Cleary (Hill)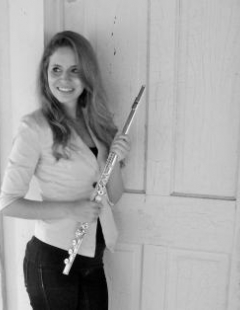 Specialization
MM Woodwinds and Brass (Flute), Spring 2015
Bio
Adriane Cleary (formerly Hill) is a graduate of the University of California, Santa Barbara, where she studied performance with Jill Felber and received a Master of Music degree. She has been recognized in state and regional competitions, such as Third Prize in the 2013 Florida Flute Association's College Young Artist Competition and winner of the 2012 Mid-South Flute Festival Master Class Competition. In 2010, Adriane performed as soloist with the University of Central Florida Wind Ensemble as the winner of the University of Central Florida Concerto Competition.
In the summer of 2014, she was selected as a Fellow for the Marrowstone Music Festival in Bellingham, Washington. She served as principal flute in the Festival Orchestra and Fellowship Chamber Orchestra, and worked under Maestros Gerard Schwarz, Dale Clevenger, Stephen Rogers Radcliffe, and Ryan Dudenbostel. As a fellowship recipient, she performed with the Fellowship Wind Quintet and on the faculty chamber music recital. While at Marrowstone, she worked with artist-faculty members Jill Felber, Jeff Zook, Kenneth Grant, and Roger Cole.
Adriane has performed in master classes across the country for artists such as Walter Auer, Jill Felber, Linda Chesis, Jean Ferrandis, Marianne Gedigian, Aaron Goldman, Leone Buyse, Carol Wincenc, Gary Schocker, Tadeu Coelho, and the Danish String Quartet.
As an undergraduate at the University of Central Florida, Adriane performed with the UCF Knight Winds at the 2011 National Flute Association Convention in Charlotte, North Carolina. During her time at UCF, Adriane and three of her fellow studio members formed a flute quartet, the Aurelia Flutes. The group performed often throughout the state of Florida, with major performances including the Florida premier of Charles Griffin's Emergence for flute quartet and electronics at the Timucua White House. As students of Powell Artist Dr. Nora Lee Garcia, the Aurelia Flutes were invited to perform at the Powell Flutes factory in Maynard, Massachusetts in the spring of 2012.
As a member of the Now Hear Ensemble, Adriane toured throughout much of California, including appearances at the Center for New Music in San Francisco and REDCAT at Walt Disney Concert Hall in Los Angeles. She has also performed with the group as a part of Classical Revolution: LA and at the Carlsbad Music Festival. The Now Hear Ensemble was previously the Resident Ensemble at the University of California, Santa Barbara.
While completing her masters at UCSB, Adriane served as the Graduate Teaching Assistant for the University Wind Ensemble (under the direction of Paul Bambach), and directed the Flute Choir. She also holds a Bachelor of Music degree from the University of Central Florida, where she studied with Dr. Nora Lee Garcia. Adriane began studying flute in high school, under the guidance of Bootsie K. Mayfield.