Amanda Kritzberg
Amanda Kritzberg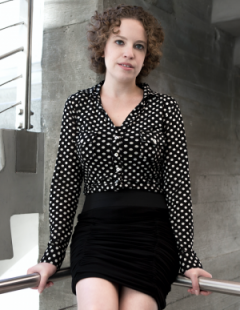 Specialization
MM Woodwinds and Brass (Clarinet), Spring 2013
Bio
Amanda Kritzberg grew up in Los Angeles County and began playing the clarinet at the age of eleven under the direction of her father. She studied with clarinetist Paul Bambach for six years, where she gained experience in the performance of a variety of genres and styles of music. Amanda received her bachelor's degree in music (clarinet performance) in 2011 from UC Santa Barbara, and her master's degree (clarinet performance) in 2013 from UC Santa Barbara as well. She has been involved in a number of diverse music performance ensembles over the years including symphonies, chamber orchestras, wind ensembles, clarinet choirs, and contemporary music ensembles. Amanda has also worked in collaboration and performed with numerous musicians and composers as a recording artist for mixed-media projects, including film.
In March of 2011, she played in a master class lead by Matthias Schorn of the Vienna Philharmonic, and in 2012 performed Copland's Clarinet Concerto for a master class with Fred Ormand. In July 2012 Amanda was featured as a chamber musician in the "Fiati a Palazzo Rucellai", a wind chamber music festival in Florence, Italy.
Amanda specializes in music of the contemporary era, and enjoys participating in the compositions of current and emerging composers. As a member of Now Hear Ensemble, she has debuted numerous new works in renowned and diverse venues such as the Santa Barbara Museum of Art, REDCAT, the Silver Lake Lounge in Los Angeles, the Center for New Music in San Francisco, and the Carlsbad Music Festival. In 2013-14, Amanda toured with the Now Hear Ensemble to perform works by emerging composers at distinguished institutions, including Stanford University, UC Berkeley, UC San Diego, UC Santa Barbara, USC, Mills College, and CalArts as part of the "Made in California" project, which included the release of the "Made in California" album. In September of 2016, Amanda was awarded a residency at the Avaloch Farm Music Institute, where she worked in residence with the Now Hear Ensemble on various pieces and projects, and was recently a featured soloist at the Roy and Edna Disney/CalArts Theater (REDCAT) located in the Walt Disney Concert Hall Complex in Los Angeles.
Amanda is also a visual artist. Her paintings and original artwork can be viewed and purchased at www.daylongdaydreams.com.