Andrea DiMaggio
Andrea DiMaggio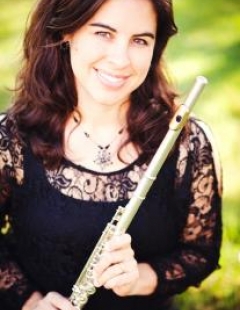 Specialization
MM Woodwinds and Brass (flute), Spring 2004
Bio
Andrea Di Maggio has been praised for her "stellar playing and social grace" by the Santa Barbara Independent and is in demand as both a teacher and performer in the Santa Barbara area. Andrea graduated from San Jose State University in 2001, summa cum laude, with a Bachelor of Music degree in Music Performance where she studied with Paris Conservatory French flutist, Isabelle Chapuis. Andrea was granted a teaching position at Arizona State University during 2001-2002, and while completing her first year of graduate school, she taught private lessons to the undergraduate flute majors, implemented and taught a flute course to music education students, and performed in faculty recitals. Andrea transferred to the University of California, Santa Barbara in Fall 2002 to study with Jill Felber on a full scholarship. She graduated with honors with a Masters Degree in Flute Performance in 2004. While a graduate student at UCSB, she was the recipient of performance awards from the Santa Barbara Foundation, the Santa Barbara Music Club, and the Leni Fe Bland Foundation.
Andrea has performed in masterclasses with Robert Stallman, Tadeo Coehlo, Marianne Gedigian, Michel Debost, and Jill Felber. Performing regularly in solo and chamber music recitals, she is a founding member of Sonos Montecito, the Woodwind Quintet-in-residence at Westmont College, where she has been the Flute Instructor since 2012. Andrea also maintains a small and competitive private flute studio, with students winning awards from the Santa Barbara Music Club, The Music Teachers Association of California, and the National Flute Association. Andrea performs on a silver Miyazawa Boston Classic flute with gold and platinum headjoint.
Alumni Spotlight: "The Entrance Audition"