Andrew Stewart
Andrew Stewart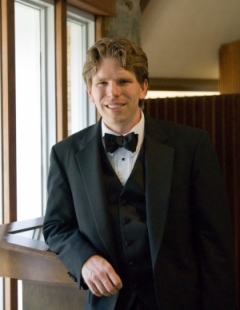 Specialization
BM Piano Performance, 2000
Bio
Andrew Stewart received his B.M. degree in Piano Performance from UCSB in 2000, graduating summa cum laude. Andrew studied with Dr. Charles Asche.
Andrew was accepted into the M.M. program at the Peabody Institute of the Johns Hopkins University from which he graduated in 2002.
Mr. Stewart has distinguished himself in many areas of the music world. His current positions include his work as Director of Music Ministries at Our Lady of Grace Parish in Parkton, Maryland. He is also accompanist for Shabbat services and choir rehearsals at the Temple Shalom in Chevy Chase, Maryland. He is pianist for the Maryland Opera Young Artist Program. Andrew is also pianist/emcee for over 60 performances each year with the Maryland Opera Outreach Program for which he has developed shows such as Much Ado about Opera, Opera Games, and Arias and Adventures. Since 2010 he has been a member of the faculty at the Maryland Opera's summer program for young people where he is involved in helping young people to compose a 40-minute opera each summer.
Often in demand as a soloist and collaborative pianist, Andrew's recent performances include recitals with sopranos Marie Claire Curran (Opera America), Complete Songs of Henri Duparc with soprano Kimberly Christie, Quartet for the End of Time, Olivier Messiaen (Princeton University), and Gershwin's Rhapsody in Blue with orchestra. Mr. Stewart can be heard in several recordings including Ask the Moon: Works for Voice and Piano (Novona Records, 2018, NV6133) and also Katherine Keem Sings Songs and Arias by Garth Baxter (Centaur Records, 2014, CRC 3359).