Anthony Do-Hoon Kim
Anthony Do-Hoon Kim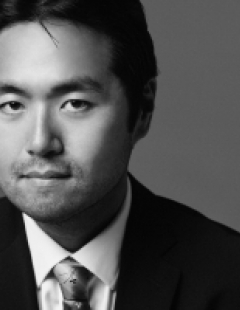 Specialization
BM Piano Performance, 2008
MM Piano Performance, 2010
Bio
Anthony Kim received his B.M. Piano Performance degree in 2008. He also studied Chamber Music under Yuval Yaron and Geoffrey Rutkowski and Conducting with Richard Rintoul.
Anthony continued his studies under Dr. Charles Asche and completed the M.M. degree in Piano Performance in 2010 and concurrently held a Graduate Teaching Assistantship in Orchestral Activities.
Mr. Kim also participated as a violinist in the UCSB Orchestra and Chamber Music programs.
He was awarded the Erno Daniel Piano Award, and also the Outstanding Graduate Student Award. He participated in master classes given by Leon Fleisher and the Julliard Quartet. He was also awarded a Career Development Grant from the Leni Fe Bland Foundation. He was Assistant Conductor for the Thousand Oaks Philharmonic from 2008-2010.
He later attended the University of Michigan School of Music, Theater, and Dance, from which he received the M.M. in Conducting in 2012. While at Michigan, his principal teacher was Kenneth Keisler and he was awarded a Graduate Fellowship in Orchestral Conducting. He also participated in master classes with Gustav Meier.
He was awarded a Conducting Fellowship at the Conductors Institute at Bard College Conservatory of Music, as well as a fellowship at the Conductors Retreat at Medomak. Mr. Kim was later accepted as a Conducting Fellow at the prestigious Pierre Monteux School in Hancock, Maine.
He has been a guest clinician, adjudicator, and performer at the Idyllwild School, the Maine Public Broadcasting Network, Kadima Conservatory of Music, Community Council for Music in the Schools (San Diego,CA.),SDYS Concerto Competition, Casa de Amistad Orchestra, and the David's Harp Foundation Chamber Orchestra. He was conductor of the San Diego All-City Honor Orchestra during the 2014-2015 school year, and was invited to return to conduct this orchestra for the 2019-2020 academic year. He was recently the invited conductor for the Grossmont Union Honors Orchestra.
Mr. Kim has been conductor of Inspiration Ensembles, Overture Strings and Debut Strings Orchestras, Opus Chamber Orchestra, and Conservatory Teaching Artist at the San Diego Youth Symphony and Conservatory. Currently, he is conductor of the Philharmonia and Concert Orchestra ensembles of the San Diego Youth Symphony.