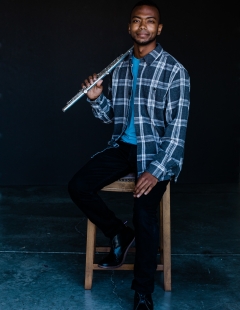 Specialization
BM Woodwinds and Brass (Flute), Spring 2015
Bio
Bay area native, Azeem Ward, is an artist and educator that seeks to create a message of hope and healing to audiences around the world. Thanks in part to his viral senior flute recital that was viewed by over 55,000 people in May of 2015, Azeem has learned to use a signature blend of jazz, classical, and beatbox flute stylings that has earned him features on Jimmy Kimmel Live! and BuzzFeed, and in publications such as The Tab, The Independent, and countless others. Azeem's senior flute recital was hailed by Kimmel as "the most anticipated flute recital in the history of the country."
Azeem spends his time collaborating with artists such as Audiopharmacy, Jenn Johns, Jeff Turner, and more. From dancing, to painting, to producing, to vocalists and more, he enjoys working with all forms of art. One in particular is producer DJ Underbelly, forming Azeem X Underbelly. The duo engineered a live show that combines lyrical flute melodies with driving dance beats, creating a performance that adapts to any occasion—from an elegant restaurant, to a nightclub dance floor. Azeem X Underbelly toured the UK in the fall of 2015, performing in 12 cities across the country.
Azeem's music publishing company, S&B Music, is where he produces compositions for flute beatbox. His latest work, Hope on the Horizon (2021) can be found here.
Azeem enjoys educating the youth at Milpitas Christian School in San Jose, CA. He teaches Band and Bible to elementary and middle school students. In his time off, he continues to compose, perform, and produce music.