Brandon Rolle
Brandon Rolle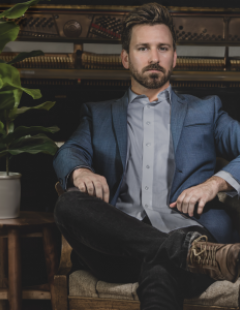 Specialization
PhD Composition, Spring 2019
Bio
Composer Brandon J. Rolle fuses traditional and experimental techniques to create intimate, deeply immersive sound worlds. His interdisciplinary approach incorporates psychoacoustics, sonology, and computer programming, shaping perceptual effects that reinforce musical gestures and structure. His creative output includes chamber, orchestral, electro-acoustic, and intermedia music, which have been heard at galleries, festivals, and concerts of new music across the United States and Europe.
This season's highlights include the Los Angeles premiere of Rolle's Impulse at the Hear Now Music Festival, the recording of a new electro-acoustic chamber concerto written for Mari Kimura and featuring her recently-released MUGIC™ performance sensor, and an audio-video collaboration with visual artist Christopher Richmond. Rolle's previous collaboration with Richmond, Hyperway, which premiered at the Moskowitz Bayse gallery in 2018, was acquired last year by the Los Angeles County Museum of Art (LACMA) as a part of their permanent collection. Glitch Portraiture, an album of Rolle's recent electro-acoustic chamber music, will be released by Arpaviva Recordings in November through the support of the Alice M. Ditson Fund of Columbia University and the Arpaviva Foundation. In 2021 and 2022, Rolle will continue work on a commission for creating the live electronics to Joel Feigin's new opera, Outcast at the Gate.
In addition to his compositional work, Dr. Rolle is a conductor who champions the works of living composers, and a dedicated teacher with experience in both traditional and innovative music curricula. In 2018, Rolle co-founded the Impulse New Music Festival, a non-profit providing training and support to early-career composers and performers working in new music, for which he serves as Artistic Director. An active member of the Los Angeles music community, Rolle has contributed as Modern Music Writer at the new music blog NewClassic.LA, is a part of the teams at Brightwork New Music and Equal Sound, and is a photographer for local artists and concert series. Rolle holds a PhD from the University of California Santa Barbara, an MA degree from Mills College, and undergraduate degrees in music and political science from California Polytechnic State University, San Luis Obispo. His primary teachers were Pauline Oliveros, Roscoe Mitchell, Clarence Barlow, and Joel Feigin. Rolle lives in Los Angeles where he works as a freelance composer and teaches a private studio of composers. His compositions are published by Precious Noise Music.