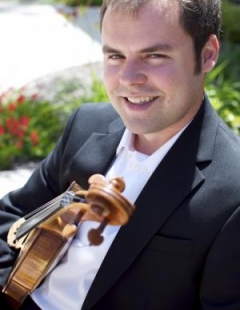 Specialization
MA Musicology, Spring 2013
DMA Strings (Viola), Fall 2014
Bio
Praised for "the maturity of his mind and technique" (Santa Barbara News-Press), violist Jacob Adams made his solo debut with the Cincinnati Symphony Orchestra at age 17. His performing career has taken him across the U.S. and around the world, including all three stages at Carnegie Hall, the Hollywood Bowl, Boston's Symphony Hall, and the El Escorial Palace in Spain. Mr. Adams has performed on the prized Amati instruments at the Smithsonian and has appeared on stage with such diverse acts as the Kronos Quartet, Yo-Yo Ma, Suzanne Vega, Herbie Hancock, Quincy Jones, Diana Krall, Christian McBride, and Clay Aiken, among many others. He has premiered new works by numerous young and celebrated composers, including Caroline Shaw, Ted Hearne, Jacob Cooper, and Martin Suckling. He performs regularly with many ensembles and orchestras around the country, including A Far Cry, Santa Barbara Symphony, New Haven Symphony, Opera Santa Barbara, Tuscaloosa Symphony, and Huntsville Symphony.
A graduate of Oberlin College, Yale University, and the University of California Santa Barbara, his principal teachers have included Helen Callus, Jesse Levine, Roger Chase, Roland Vamos, Masao Kawasaki, and Catharine Carroll. In addition to his performance degrees, Mr. Adams also holds an M.A. in Musicology from the University of California Santa Barbara where, upon graduating with his D.M.A., he was named "Outstanding Graduate Student" by the Department of Music. Mr. Adams' research on the Suite for Solo Viola by Czech composer Ladislav Vycpálek will be presented at the 2016 American Viola Society Festival, and his article on the piece will be featured in the Fall 2015 Issue of the Journal for the American Viola Society. His first recording "Czech Portraits," featuring works by Janáček, Zich, and Vycpálek with pianist Pascal Salomon is being released on the Centaur label.
Chamber music highlights include performances with members of the Muir, St. Lawrence, and St. Petersburg String Quartets. Jacob was the violist of the critically acclaimed Vinca String Quartet, with whom he won special mention at the Borciani International Quartet Competition. As the violist of the Erato Quartet, he won top prize at the Coleman Chamber Music Competition with one judge calling his performance, "the best viola playing I have heard in years." He is a regular coach and performer for Manchester Summer Chamber Music and has performed at the Aspen Music Festival, Tanglewood, the Music Academy of the West, and the Casalmaggiore International Music Festival, among many other summer festivals.
Mr. Adams has held teaching positions at Yale University and the University of California Santa Barbara, and is currently Assistant Professor of Viola at the University of Alabama. He has appeared as a guest teacher and performer at many other schools and festivals, including the Peabody Institute of Music, Western Connecticut State University, Occidental College, BYU-Idaho, and the Chautauqua Institute. Mr. Adams also often leads pre-concert talks and has contributed program notes to notable concert series across the country.
Mr. Adams' passion lies in sharing the joy and continued relevance and importance of music to audiences and students regardless of age, background, or knowledge base. He advocates for an active, community-based engagement with the arts and sees furthering this as a crucial component of the contemporary teacher-artist's task. In that vein, Mr. Adams served for four years as orchestra conductor and strings teacher for iCAN (Incredible Children's Art Network), an after-school free access music program based in Santa Barbara's Eastside community. While in the Vinca Quartet, Mr. Adams co-founded the non-profit organization Music Haven, using El Sistema principles to bring music access to the underprivileged neighborhoods of New Haven, CT. Mr. Adams has also coordinated the volunteer music programs for Santa Barbara Partners in Education, served as the Instrumental Program Coordinator at the Music Academy of the West, and worked in the Concert and Press Office of the Yale School of Music.