Jerico Vasquez
Jerico Vasquez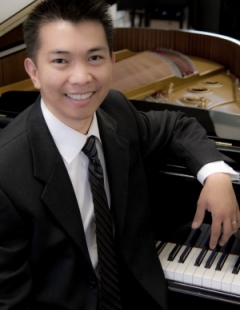 Specialization
BM Piano Performance, 1995
Bio
Jerico Vasquez received his B.M. with High Honors in piano performance from UCSB in 1995. Dr. Vasquez studied piano with Dr. Betty Oberacker and with Dr. Charles Asche. While a student at UCSB, Dr. Vasquez received multiple prizes including first place in the UCSB Department of Music Annual Concerto Competition, the Leni Fe Bland Foundation Competition, the Performing Arts Scholarship Competition, the Pillsbury Foundation Award, UCSB Department of Music Outstanding Graduating Senior Award, University of California Regent's Scholarship, and the prestigious Charlotte and Alvin Bronstein Award granted by the Ojai Festival. He was also the recipient of the Nat King Cole Memorial Scholarship between 1991 and 1995.
Dr. Vasquez continued his studies at the Moores School of Music at the University of Houston with Ruth Tomfohrde, and also did advanced study under the eminent pianists Abbey Simon and Horacio Gutiérrez. He was granted the D.M.A. degree from that institution in 2002. His dissertation treats the works of Department of Music professor emeritus Emma Lou Diemer and is entitled: Dissertation: The Two Piano Concertos of Emma Lou Diemer (b. 1927): A Critical Study.
He has performed as a recitalist, a concerto soloist, and as a chamber musician throughout the United States, Canada, Europe, and the Philippines.
Recent performances include numerous solo recitals in the southeast United States and the Philippines, a concerto performance with the Rome (Ga.) Symphony Orchestra (2015), and collaborative performances with the Balkan String Quartet and the Expedition Winds. Critical reviews include the following: "formidable and effortless playing", as well as "intelligent ardor and exceptionally clear and bright technique." Dr. Vasquez has recently completed a tour with lieder singer Yuman Lee of the complete Wintereisse of Franz Schubert.
He has presented numerous master classes and lectures for music teacher associations throughout the United States, and has participated as an adjudicator in many local and state competitions for the Georgia Music Teachers Association, as well as for many other organizations across the United States and in foreign countries.
Dr. Vasquez joined the faculty of the Shorter University Department of Music in Rome, Georgia in 2009. He is currently Artist-in-Residence and Full Professor of Piano at Shorter University.
His students have been prize winners in various competitions including the William and Mary Ann Knight Scholarship Competition, Atlanta Music Club Scholarship Competition, the Rome (Ga.) Symphony Orchestra Concerto Competition, and the Outstanding Performer Award from the Georgia State Music Teachers Association. His students have continued graduate work at the Eastman School of Music, Minnesota State University, Cincinnati College-Conservatory of Music, and Rutgers University.
Dr. Vasquez is an official designated artist for Shigeru Kawai pianos.