Kassey S. Plaha (LeBow)
Kassey S. Plaha (LeBow)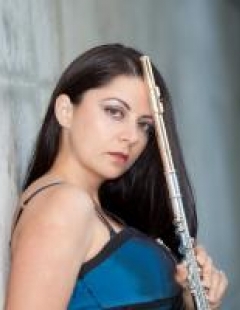 Specialization
MM Woodwinds and Brass (Flute), Spring 2003
Bio
Kassey Plaha started her musical studies at the age of 11 in New Mexico. By the age of 13, she was awarded a full college scholarship to New Mexico State University as a promising young talent.
In 2001, she graduated from the University of New Mexico in Flute Performance on full scholarship where she studied with Valerie Potter, principal of the New Mexico Symphony Orchestra. While at the University of New Mexico, Kassey was a member of the nationally acclaimed UNM Wind Symphony and part of the recording of "Fandango" with international soloists Philip Smith and Joe Alessi of the New York Philharmonic. Her many guest appearances include the New Mexico Symphony Orchestra as a substitute, El Paso Symphony Orchestra as a substitute, UNM Symphony Orchestra, New Music New Mexico, Dominant Five Woodwind Quintet, UNM Flute Quintet, and UNM Woodwind Quintet.
In June 2003, Kassey graduated from University of California at Santa Barbara with a Master of Music, where she was the Flute Studio Teaching Assistant and studied with Jill Felber, internationally acclaimed soloist and chamber musician of ZAWA. Her many appearances in Santa Barbara include Ensemble for Contemporary Music, Mirage Flute Trio, Guest Artist in Andrea Ogundele's Artist Recital "Authenticity and Hover", Soloist for "Mobiles 2" by Henry Brant in UCSB New Music Festival 2002, Guest Artist with Mirage Flute Trio in 2003 Primavera Festival, Guest Artist for Music Academy of the West Virtual Masterclass 2003, Soloist with UCSB Symphony Orchestra as a Winner of the Concerto Competition 2002.
Mrs. Plaha has been a winner in several competitions including the Leni Febland Competition, Santa Barbara Music Club Competition, UCSB Concerto Competition, the prestigious National Flute Association Masterclass Performers Competition, as well a semi-finalist in the Frank Bowen Competition. Kassey has also performed in numerous masterclasses for the world's most prominent solo and orchestral flutists most recently including Jeanne Baxtresser, Marianne Gedigian, and Tim Day. Her other teachers include Jenny Kreuger, Tadeu Coelho, Peter Ader and Claudia Anderson.
Mrs. Plaha is an avid supporter of contemporary music, and has been involved with several new commissions and world premiers most recently including: "Entia" by Noah Luna, "Four Elements" by Chia-Ying Chang, and "Godpots" by Jeremy Haladyna, "Steppin' Out" by Linda Holland, "Echo Park" by Danny Clay, "One Tree Catching Light" & "Uncanny Valley" by Mike Sempert, "Summer Sketches" by Elainie Lillios, "Orion's Belt" by Nicole Chamberlain, and a new commission by 2014 Areon Composition Competition winner Hugh Lobel. Kassey has performed new chamber works at the National Flute Convention in 2004, 2007, 2009, 2011 and 2013. Other new solo and chamber music commissions for various instrumental arrangements are scheduled to be performed and recorded over the next five concert seasons including collaborations with Joel Friedman, Dan Becker, Sahba Aminikia, Joseph Columbo and Ryan Brown.
Plaha Flute Studios is one of the leading competitive progressive flute studios on the West Coast of the USA. Her students have won many solo and chamber music competitions on National, Western regional, New Mexico state, California state levels and hold high ranking seats in the prominent youth symphonies of the Bay Area. Many of Mrs. Plaha's students have also successfully auditioned into several prominent college flute programs. Kassey's teaching credits also include Artist in Residence with Areon Flutes for the El Camino Youth Symphony, Music program director of Creative Connections Arts Academy, Artist in Residence for the San Jose Youth Symphony and faculty for the Community School of Music and Arts in Mountain View, CA.
Kassey maintains a very active schedule as both an International soloist and chamber musician with the Nationally acclaimed and award-winning Areon Flutes. She recently played with Areon at their Weill Hall at Carnegie Hall debut in September 2007, and won the bronze medal with Areon at the Fischoff Chamber Music Competition in May 2008. Areon also has both CDs, "Flat Out!" & "Gossip Cats are Dancing" which are available through iTunes and the Areon website. Mrs. Plaha is also a proud Miyazawa Artist with Areon Flutes.