Naomi Seidman
Naomi Seidman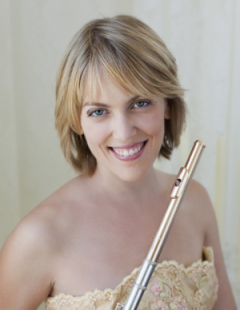 Specialization
BM Woodwinds and Brass (Flute), 2002
Bio
Naomi Seidman joined the Pennsylvania State University School of Music faculty in 2012. An accomplished solo performer, she has won the Mid-South Flute Competition and the Frank Bowen Young Artist Competition, and was first runner-up in the Myrna Brown Young Artist Competition. She was also a semi-finalist in the Beijing Nicolet International Flute Competition. She has performed as a soloist with the Pennsylvania Centre Orchestra, Santa Fe Symphony, Kingsville Symphony, and Ballet Austin. She has also been an invited performer, judge, and presenter at National Flute Association (NFA) conventions and is a member of the NFA Cultural Outreach Committee.
As a chamber musician, Naomi is a member of the Pennsylvania Quintet, a woodwind quintet comprised of Penn State faculty members. She also performs regularly with her husband, cellist Jonathan Dexter, as the JANO Duo. Involved in several exciting commissioning projects for both groups, Naomi is dedicated to expanding repertoire for this combination of musicians. She has also collaborated with the Vienna Piano Trio and the Walden Chamber Players. She has participated in numerous festivals, including Yellow Barn, Bowdoin Summer Music Festival, Eastern Music Festival, Sewanee Summer Music Festival, Colorado College Summer Music Festival, Austin Classical Guitar Society, and the Austin Chamber Music Center.
Naomi is the recipient of numerous grants and awards, including the National Endowment for the Arts "Fast Track America Grant" and the Penn State College of Arts and Architecture "Award for Excellence in Advising and Mentoring."
A dedicated educator, Naomi has presented masterclasses at the University of Texas at Austin, Texas State University, Texas A&M University-Corpus Christi, Ohio State University, Capital University, Ball State University, Oklahoma State University, Texas A&M University-College Station, University of Texas at Brownsville, and Southeastern Oklahoma State University.
In 2012, she created the Penn State Flute Day, an annual event where area flutists of all ages gather to attend masterclasses and recitals given by a renowned flutists. The symposium's guest artists have included Jill Felber, Bart Feller, and Bonita Boyd.
Naomi received her bachelor's degree from the University of California at Santa Barbara, the Master of Music degree from Yale University, and her doctoral degree the University of Texas at Austin.
She plays on a handmade Powell flute.