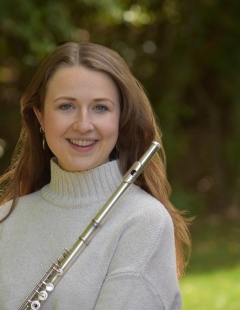 Specialization
MM Flute, Spring 2023 (pending)
Bio
Sarah Bortz is a Master's student at UCSB and the Teaching
Assistant for the flute studio under Jill Felber. She holds a bachelor's degree
for Instrumental Performance from Western Michigan University. Before the
pandemic, Sarah performed principal flute with her alma mater's university
orchestra on Tchaikovsky's Nutcracker with the Moscow Ballet. She also has
experience with classical and contemporary chamber music, jazz combos, flute
choir, and band literature. She has won first place for the Performing Arts Scholarship Foundation Competition,
a non-profit organization based in Santa Barbara. Sarah teaches privately and likes to challenge her
students on exploring improvisation as a classical musician.