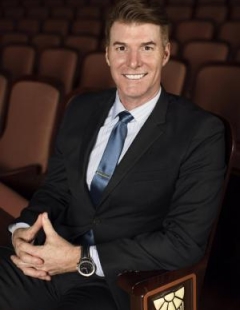 Specialization
BM Voice, Winter 1997
Bio
"Scott Reed is a highly effective, visionary leader, who is using his position at the Music Academy of the West to influence the entire music business in a highly positive way." Alan Gilbert, Music Director of the New York Philharmonic
With 20 years of experience in the classical music industry, Scott Reed has developed an exceptional leadership profile founded on executive non-profit business management, significant fundraising success and extensive experience in arts education and administration. Mr. Reed was named President and CEO of the Music Academy of the West in 2010 after serving as Vice President for Institutional Advancement.
Musical America named Reed a 2015 Influencer praising his "capacity to connect the MAW experience to the real world" and referring to him as a "brilliant fundraiser."
Since becoming President and CEO, Mr. Reed has forged a number of transformative initiatives for the Academy including a historic four-year partnership and training program with the New York Philharmonic. When launched in 2014, this was the first training program of its kind in the United States. Mr. Reed also instituted a number of key faculty and guest artist appointments including the hiring two concertmasters from major American orchestras, and other leading music instructors from the top conservatories and orchestras in the US. He also invited world-famous conductors Christoph von Dohnányi and Riccardo Muti to come to the Music Academy for the first time. During Reed's tenure as President, Academy school applications have increased 27% and performance attendance has increased 38%.
For six consecutive years, Mr. Reed has managed a net favorable operating budget. During this time the budget also increased 47%, reflecting a number of new programmatic achievements. Contributions to the annual fund have increased by 60% and Mr. Reed has overseen major capital campaigns and projects extending $30M.
Prior to his tenure at the Music Academy, Mr. Reed worked for the San Francisco Opera as Associate Director of Development. While in San Francisco, Mr. Reed was a Consultant for St. Luke's Hospital Foundation where he facilitated board training in governance and fundraising.
He currently serves on the Board of Kids Helping Kids and as a National Advisor to the Rocky Ridge Music Center. This past fall Mr. Reed was invited by Santa Barbara City College CLL as the inaugural guest lecturer for their new non-profit studies program.
Mr. Reed earned his Bachelor of Music degree in Vocal Performance at the University of California, Santa Barbara. He was a Music Affiliate scholarship recipient and swam on the UCSB NCAA Division I swim team.
Alumni Spotlight: UCSB Alumni Association Coastlines magazine feature, "Alumni Champions"