Shivhan Dohse Morton
Shivhan Dohse Morton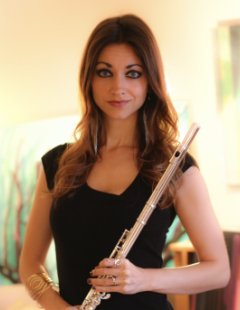 Specialization
MM Woodwinds and Brass (flute), 2007
Bio
A versatile musician with a passion for many genres of music, Shivhan Dohse Morton is in demand as a chamber musician, orchestral musician, soloist and teacher. She has been a Featured Solo Artist at the International Flute Festival in Brazil (2015 & 2012), the San Francisco Flute Festival (2012), the National Flute Association Convention (2015, 2014 & 2013), the Florida Flute Convention (2019 & 2016), the University of California - Santa Barbara Flute Summit (2014), the Integral Steps Guest Artist (2016) and was the featured 'Cover Girl' for the February 2016 issue of The Flute View. Internationally, Ms. Dohse has performed concerts in Italy, England, France, Spain, Ireland, Russia, Brazil, Costa Rica, Germany, Austria and Switzerland.
Shivhan is the National Marketing & Sales Director for Miyazawa Flutes (USA), and has held this position since 2007. With her interest in entrepreneurship, marketing and music business, she has given workshops at the Peabody Conservatory of Music, the University of Alabama, the University of Georgia, Alabama School of the Fine Arts, the University of California - Santa Barbara, Oklahoma State University, the Marina Piccinini International Masterclass as well as the women's music fraternity, Sigma Alpha Iota's, 'Province Day' as their Guest Speaker.
Shivhan is the Adjunct Instructor of Flute at Coe College, and has also served on the faculties of Cornell College, Culver-Stockton College, Clarke University and the University of California – Santa Barbara. She has been a judge for multiple competitions including the San Francisco Young Artist Competition, the Florida Flute Festival Junior Artist Competition, the Iowa Flute Festival Flute Wonders Competition (Junior and Senior Division), the Quincy Symphony Young Artist Concerto Competition, the NFA Arts Venture Competition and numerous local solo & ensemble contests. In 2017, Shivhan coached flute lessons & chamber music at the Five Seasons Chamber Music Festival, and continues to hold a small teaching studio out of her home.
Ms. Dohse Morton has performed regularly with Orchestra Iowa (3rd flute/piccolo) since 2012 and the Waterloo-Cedar Falls Symphony (Principal Flute) since 2007. In 2014, Shivhan performed the Chaminade 'Concertino' and the Hanson 'Serenade' with the Ottumwa Symphony Orchestra, where she was Principal Flutist from 2010-2018. Shivhan was the Featured Soloist with the Coe College Band during their tour to Costa Rica in 2016, performing the world premiere of Barry McKimm's 'Air' for piccolo and band. In addition, Ms. Dohse Morton enjoys performing with the Cedar Rapids Municipal Band during the summer as their Principal Flutist, a position she has held since 2009.
Passionate about new music, Shivhan has premiered over 40 new works for flute and was a co-founder of the internationally recognized and genre-shattering pop-fusion flute duo, In Sterio. Considered pioneers in their field, In Sterio released their first album, 'Frequency', in 2010 followed by their sophomore album, 'Awake', in 2013 featuring original works for two flutes and electronic backtrack written by Erica Peel. The duo has performed at numerous NFA conventions, the Midwest Convention, Piccolo Spoleto Festival, Florida Music Educator's Convention, Nebraska Music Educator's Convention, Florida Flute Convention, Mid-Atlantic Flute Fair as well as holding residencies at Texas Tech University, University of Wisconsin (Madison, Milwaukee & Whitewater), James Madison University, University of Nebraska (Omaha & Lincoln), Iowa State University, University of Northern Iowa, University of South Florida, University of Tennessee (Knoxville), Lincoln Memorial University, Clarke University, the College of St. Mary's, Maranatha College, Iowa Piccolo Intensive, 7th Annual Flute Day in Peru, IL, the Coastal Bend Flute Symposium at Texas A&M University, the Raleigh Area Flute Association, the Southeast Michigan Flute Association, and the Quad Cities Flute Association, amongst others. In 2014, In Sterio premiered a piece at the 2014 Midwest Conference written by Brian Balmages for two flutes and jazz band. Their sound has been described as "two flutes - one brain". Performances have been praised as "spell binding", "awe inspiring" and "this high octane, 'outside the box' duo brings audiences to their feet." Although no longer performing, their published works for two flutes and electronic backtrack have recently been released and are available for purchase.
Always having a love for multiple genres of music, Shivhan spent a semester during her undergraduate degree studying Irish Music at the University of College Cork in Cork, Ireland as well as a summer in St. Petersburg, Russia studying flute at the Herzan Pedagogical University. During her Master's, Shivhan spent two years playing flute with the Irish band, 'Dannsair'. After the release of their CD, 'Rias Medias' in 2007, they performed concert tours in Spain (2008) & Ireland (2009). Shivhan has given workshops on the style of Irish Music throughout the country and enjoys sharing this style of music. She has also been invited on stage to perform with folk singer/guitarist Martin Sexton, the folk/blues band 'Big Blue Sky' in addition to performing in concerts with Iowa's own pianist and Steinway Artist Jim McDonough. Recently diving into yet another genre, Ms. Dohse Morton was the Featured Artist for the Corridor Jazz Project in 2016, as well as a Guest Artist with the Coe College Jazz Band performing a Duke Ellington piece for flute and jazz band.
Ms. Dohse Morton completed her Bachelor of Music degree at the University of Northern Iowa studying under Dr. Angeleita Floyd, and her Master's of Music Degree from the University of California Santa Barbara as Jill Felber's Teaching Assistant. As part of her assistantship at UCSB, Shivhan taught the undergraduate flute lessons to music minors and education majors, directed the UCSB Flute Choir and co-ordinated a summer flute festival titled, 'Flute Focus.'